Cloth Diaper Inserts - Helping You Understand Absorbency Options
If you're new to cloth diapering, the differences between cloth diaper inserts, doublers, boosters, and soakers can be confusing to say the least! Here we review absorbent options for your diapers, and talk about fabric types too! By the time you're done this article, we hope we'll have cleared up any questions you might have about inserts and cloth diaper absorbency.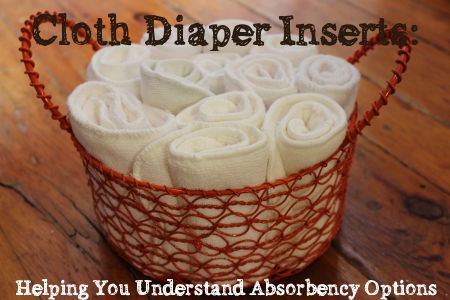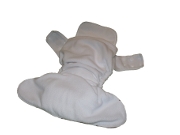 Inserts are designed to be stuffed into pocket diapers. They are usually rectangular, and are made of absorbent material.


Doublers are used with cloth diaper inserts to provide extra absorbency in a pocket diaper. While you can use two inserts, the extra bulk sometimes means the elastic doesn't fit snuggly around your baby's legs, leading to leaks, especially at night. Doublers are sometimes cut in an hour-glass shape that reduces bulk around the legs. Other times, doublers are smaller rectangles, and can be used as a newborn cloth diaper insert when the full-size insert is still too bulky for your tiny baby.


Inserts and doublers can be made out of a variety of materials. Pocket diapers are designed with a stay-dry layer of fleece, minky, microsuede, or other fabric that wicks moisture away from baby. Because of this barrier, microfiber is a fairly common pocket diaper insert. You shouldn't place microfiber right next to your baby's skin (such as in AIOs and AI2s), since it can cause dryness and irritation.
Soakers are designed to be used with All in Two cloth diapers. All in two (AI2) cloth diapers consist of a shell or cover, plus an absorbent soaker that either snaps or lays inside of the shell. When the diaper is wet, you can change the insert, and reuse the shell. Soakers are also sometimes incorporated into fitted diapers (for example, the snap-in soaker in the Bamboozle from TotsBots).



Boosters are used with a soaker to provide extra absorbency. Boosters are also often added to all-in-one diapers for heavy-wetters and for overnight use.



Soakers and doublers are most commonly made with natural fibers such as hemp and cotton, and also bamboo. If you plan to use a doubler made of microfiber or Zorb soaker, you'll want to make sure that it incorporates another layer of fabric next to baby's skin, to avoid dryness.



NOTE: Wool diaper covers are sometimes also called soakers. These are not absorbent, so we won't talk about wool soakers in this article! You can read more about wool soakers at Types of Cloth Diapers.
What About Liners?
There are two types of diaper liners.
Biodegradable liners: Made for a single use, these soft paper-like pieces of fabric are used to make clean-up of poopy diapers easier. You simply lift the liner out, and flush it all down your toilet. Oso Cozy and Bummis are two of many brands of flushable liners.
Stay-Dry Fleece liners: these reusable liners are meant to be washed after each use. They are usually used to wick moisture away from your baby's bum, but lots of parents also add them to protect diaper soakers or the fleece layer of their pocket diapers from rash creams that can build up in diapers and cause them to repel moisture. Fleece makes it easy to clean up messy diapers, too. Stay-dry fleece liners are breathable, and are great for night-time use when feeling dry might extend your baby's sleep

You don't even need to know how to sew to make your own stay-dry liners. Microfleece won't unravel, so making your own liners is as easy as cutting up a piece of fleece!
What Types of Absorbent Material Are Used?
Cloth diaper inserts are often made of cotton, hemp, bamboo, microfiber, or Zorb. For soakers, the absorbent material is sometimes topped with microfleece (such as the Soft Bums Echo microfiber soaker), or cotton or bamboo velour.
Cotton
Cotton is one of the oldest and most familiar fabrics used in cloth diapers. This natural fabric is affordable, absorbent, and available everywhere! Fitted diapers and some all-in-ones use knit cotton, but prefolds and many other inserts are made of woven fabric. Infant prefolds can be folded into thirds to make good cloth diaper inserts for your pocket diapers, too.
Bamboo
Bamboo fleece is a popular option for cloth diapers. It is super soft, wicks moisture away quickly, and can keep your baby comfortable even when wet. There is, however, some misunderstanding about the eco-friendly nature of bamboo fabrics. Bamboo fleece is essentially a synthetic, not a natural fabric. Our article on bamboo fleece will give you more information so you can make an informed decision.
Hemp
Hemp inserts are a real work-horse in the cloth diapering world - they are durable and super thirsty! You won't find much 100% hemp fabric, it is usually blended with cotton (45% cotton, 55% hemp), which makes it softer and more comfortable. Hemp can come off the clothes line quite stiff, though, so you may want to soften it up in the dryer! For my son, we used hemp cloth diaper inserts almost exclusively. The hemp inserts and boosters from AMP Diapers are one of my absolute favorite products!
Microfiber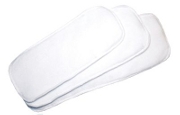 Microfiber is a man-made, absorbent material. Made of a polyester/polyamide blend, they are light and fast-drying. You should use a barrier, such as fleece liners, between a microfiber insert and your baby's skin, because microfiber can dry out and irritate their sensitive skin. Microfiber is also a little like a sponge - since it's fluffy, moisture may "wring out" of it when subjected to compression. In general, layer for layer, bamboo, hemp, and cotton are trimmer and more absorbent than microfiber.
Minky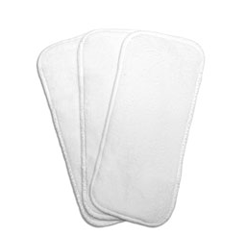 Introduced to the cloth diaper inserts market by FuzziBunz, minky is an absorbent man-made fiber. Minky provides similar absorbency to microfiber, but is less bulky, repels stains better, and doesn't feel rough like microfiber. As well, they are supposed to be easier to clean than microfiber, meaning you may face less stink issues over time.
Zorb
Have you heard of Zorb yet? Although I had seen it sold on Wazoodle, my first experience with it was in an all-in-one from Mother-Ease, called the Wizard Uno (which, by the way, we love!) Zorb is a blend of bamboo, cotton, viscose and microfiber. It was designed specifically for cloth diapers, with the goal or reducing costs and improving performance.


Each layer of Zorb replaces 2-3 layers of cotton, bamboo, or hemp terry, or microfiber. The manufacturer claims that it absorbs moisture 20x faster than other fabrics, and will hold more moisture. It's apparently a miracle fabric for diapers too - it's much less likely to have stink issues that need stripping from hard water or detergent residues!
Disposable Inserts
Hybrid diapers haven't been around as long as other cloth diaper options, but these provide added flexibility for families who may choose to switch between cloth and disposable diapers. With hybrid diapers, such as Flip, G-Diaper, and Grovia, you can purchase special disposable inserts that can be used in their branded cloth diaper covers. Perfect for times when you don't want to carry wet or dirty diapers back home with you at the end of the day!
How do I care for my cloth diaper inserts, soakers, or liners?
Cloth diaper inserts, soaker pads, and reusable fleece liners can be washed with the rest of your laundry, no special care needed!


Read our article on washing cloth diapers for more information about prepping your inserts for their first use, detergent choices, and laundry routines.
Keep in Mind When You're Buying Diapers...
Don't forget to think about the insert when you compare different brands and styles of diapers. Some diapers come with cloth diaper inserts included in the price, while for others you have to buy them separately.
Microfiber inserts come with many cloth diapers.  Lots of parents decide to replace these inserts with more effective absorbency options.  We share some of our favorite inserts below.

Additional Reading
Are you looking for more information on making your own cloth diaper inserts?  Don't miss the following articles:
If you're looking for overnight diaper options, we've written more on night-time diapering here.
Favorite Brands of Cloth Diaper Inserts
There are  lots of great cloth diaper inserts on the market today. I started out using pocket diapers, but have since added AIO's and AI2's as well, so I've tested a number of insert and soaker options.  I use mostly natural fiber inserts, and prefer them over microfiber for so many reasons.
Lots of pocket diapers come with fluffy microfiber inserts included, and they are usually the least expensive to buy.  I never fell in love with microfiber, and it's unlikely you will either (when I ask readers about inserts, complaints about microfiber always surface!)  If you decide to "upgrade" your inserts from microfiber (for trimness, absorbency, or other reasons), there are lots of great absorbency options available, including 10 of our favorites below!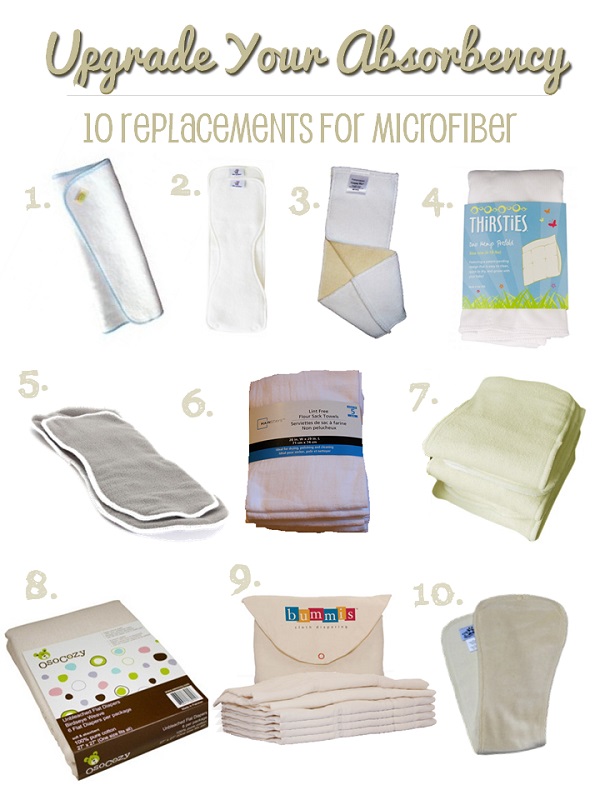 Featured Cloth Diaper Inserts

In no particular order, below are some of the inserts we love.

Disclosure: The opinions expressed in this post are entirely my own, and your experience with the product may differ from mine. I only recommend products or services I use personally and believe will be good for my readers. This article contains affiliate links.  I am disclosing this in accordance with the Federal Trade Commission's 16 CFR, Part 255: "Guides Concerning the Use of Endorsements and Testimonials in Advertising." For more information, see our Disclaimer and Copyright.
More in Our Types of Cloth Diapers Series

Sponsor Love