Hybrid Fitted Diapers -

Breathability & Trim Absorption
If you love the convenience of all-in-ones but your little one's bottom is sensitive to moisture, hybrid fitted diapers might be the breathable, trim & absorbent solution you are looking for.  Read on to find out more about what hybrid fitteds are and how they work, what makes them different from regular fitteds, and why they are growing in popularity.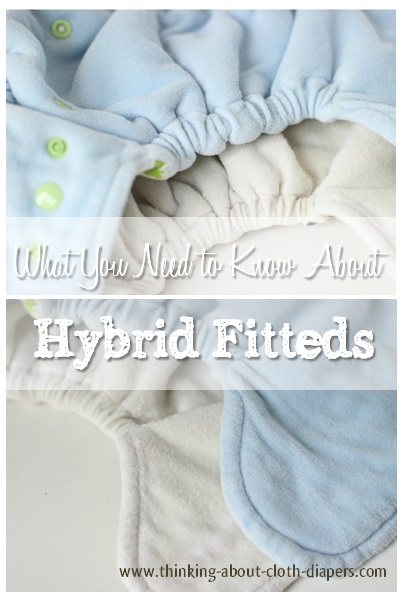 What are Hybrid Fitteds?

Most of the companies that make hybrid fitted cloth diapers will tell you that they use a layer of polyester fleece to make the diapers water resistant.  Usually this layer of polyester fleece is sandwiched between an outer knit cotton fabric (the print) and a soft inner layer of cotton or bamboo velour, as shown in the photograph below.  Some companies that make night-time hybrid fitted diapers do so without a printed cotton outer, and use a heavier weight polyester fleece fabric as the outside layer of the diaper.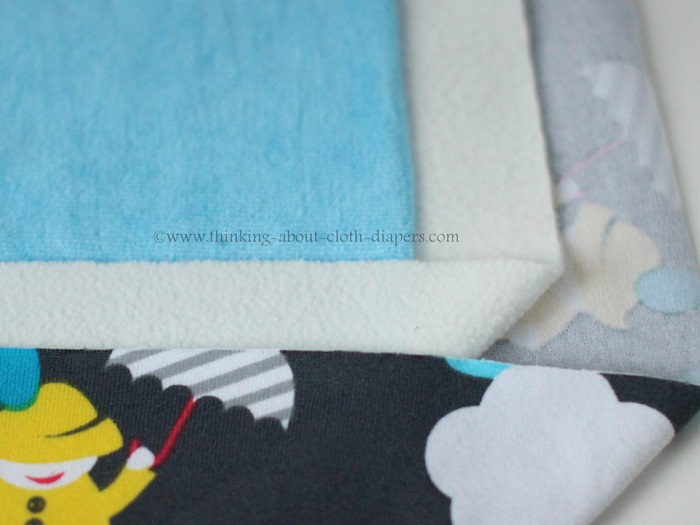 I was initially confused by this layer of polyester fleece since I didn't understand why polyester fleece functioned differently in hybrid fitted diapers than it did in stay-dry pocket diapers.  What I didn't realize was that there are several different styles of polyester fleece available on the market.  This led to a bit of research into the history of fleece - AND resulted in a much better understanding hybrid fitteds.  I now understand why the popularity of hybrid fitteds has surged since they first hit the market.  In short, hybrid fitteds function very differently than regular fitted diapers. 
Here's what I've learned:
First - A History of Fleece
Malden Mills launched a new synthetic fabric trademarked "Polarfleece" in 1979.  This fabric is made of 100% polyester (sometimes even from recycled water bottles!), and is "hydrophobic" (meaning it does not absorb water).  Polyester fleece comes in many different weights.  In addition to Malden Mills' made-in-America fleece, today "polar fleece" is made by many different manufacturers around the globe.
Second - An Understanding of the Classes of Fleece
The various "weights" of polyester fleece are a result of differences in the density and pile of the fibers, which create distinctly different insulative qualities, breathability, and wicking properties.  Malden Mills divides their fabrics into 3 categories (source):
Next-to-skin fabrics are designed to move moisture away from your body, keeping you dry and comfortable.  They are used primarily in shirts and aerobic wear.
Insulation fabrics are thermal products that are designed to provide warmth without weight.  They are used in outerwear for spring/fall and cold weather
Weather protection fabrics are products that are breathable, windproof, and water-repellent and are designed to protect you against the elements
How the Polyester Fleece Works in Hybrid Fitteds

Malden Mills' Polartec® Wind Pro® is a tight-knit but highly breathable fleece product from the weather protection fabric class that "allows you to forgo the use of a shell in all but the most extreme wet conditions" (source). It is Polartec Wind Pro (or similar varieties made by other companies) that is used as the water resistant layer in hybrid fitteds, while the stay-dry (microfleece) layers of pocket diapers are constructed of fleece products from the next-to-skin class.
The Difference Between Hybrid Fitteds and Regular Fitted Diapers
Regular Fitted Diapers

In a regular fitted diaper, when your baby pees, the fabric in the middle of the diaper quickly becomes saturated.  To make them night worthy, manufacturers increased the absorbency of fitted diapers by adding additional layers of fabric in the soaker zone - which increased bulk, drying time, and susceptibility of the diaper to urine residues (and eventual stinks).
Fitted diapers cannot be worn reliably without diaper covers, since the wetness seeps through the layers of the diaper and out onto the [carpet/bedding/lap].
Hybrid Fitted Diapers

The polyester fleece in hybrid fitteds increases the effectiveness of the diaper's insert (soaker).  The hidden layer of polar fleece pushes liquid back up into the diaper's insert, giving it time to wick away from the middle of the diaper and all the way to the ends of the insert.  Because of the water-repellent properties of Wind Pro polar fleece, hybrid fitted diapers are much more water-resistant than regular fitted diapers.



Do You Line-Dry Your Diapers?

A word about crunchiness:  I have both regular fitted diapers and hybrid fitted diapers, and I truly prefer hybrid fitted diapers.  Many WAHM-made regular fitted diapers use a similar style of construction to hybrid fitted diapers, with a printed cotton knit outer, a hidden layer of cotton or bamboo fleece, and an inner layer of cotton or bamboo velour, plus the insert/soaker system.
When hung to dry (and even over time in the dryer) I have found that the hidden layer of cotton or bamboo velour in regular fitted diapers often becomes stiff or crunchy.  This isn't the case with the polyester fleece in hybrid fitted diapers - that middle layer stays soft and pliable over time, while the outer knit often washes up like a favorite t-shirt.  If you would like to extend the life of your diapers by hanging them to dry, you will probably prefer hybrid fitteds for this reason alone!
So, Why are They Called Hybrids?
When I first started out with cloth diapers, "hybrid" was a word used to describe an all-in-two that had the option of a disposable insert or a cloth insert.  Move over "hybrids", "hybrid fitteds" are the new kids on the block!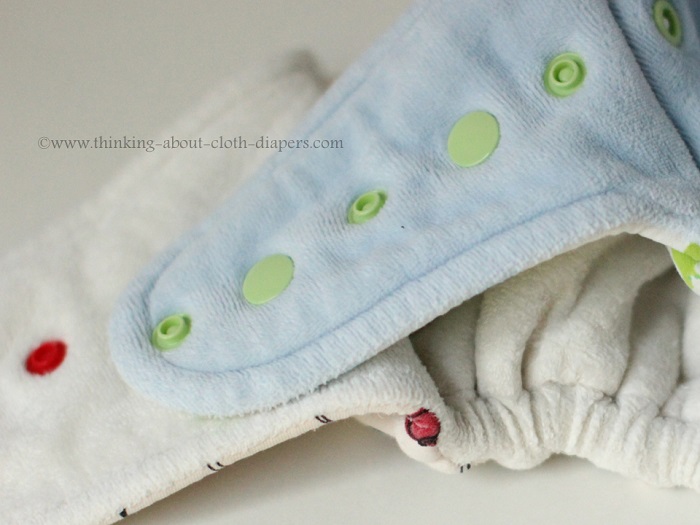 Hybrid fitteds are essentially a cross between a fitted diaper and an all-in-one.  Until the inserts become completely saturated, hybrid fitteds actually function very similarly to an all-in-one diaper, which has polyester with a urethane laminate (PUL) fabric outer to make it waterproof.  The main difference between PUL and Wind Pro fleece is that Wind Pro is much more breathable, which make hybrid fitteds ideal for babies who have sensitive skin.
Depending on the absorbency of the insert, many hybrid fitted diapers can be used for 3-6 hours before they need to be changed.  While hybrid fitteds require a cover to be completely waterproof, many families often take advantage of the breathability of hybrid fitteds by using them without covers around the house.  They need to be changed before the inserts become completely saturated or moisture will wick through the fleece and onto the outer cotton layer, resulting in the same dampness you experience with a wet fitted diaper.
Please note:  If you are interested in hybrid fitteds because your baby's bottom becomes red due to heat or moisture, you'll probably want to consider wool when a more reliable leak-free cover is needed.  Wool is my first choice over hybrid fitteds since it allows the diaper to breathe much more than a PUL cover would.
What are the Benefits of Hybrid Fitteds?
Breathable - better air circulation to your baby's bottom.  Ideal for babies who have sensitive skin, who are susceptible to heat rash, or who may be recovering from a diaper rash or skin irritation.
Easier to Care for - can be washed with color safe bleach and will not delaminate like PUL waterproof layer

Trimmer but highly absorbent - better utilizes the absorbency capabilities of the complete insert before leaking, rather than just the middle, meaning you need less layers to be effective

Beautiful, customizable, and unique - not only do you get the benefit of hundreds of choices of outer knit print fabrics, you also get the option of unique insert configurations from the many different makers!  Plus, you can add whatever you want to your diapers for absorbency.  I sometimes even skip the inserts that came with mine completely and replace them with a pad-folded flat and a hemp booster.  They are absorbent and oh-so-easy to care for - perfect for the saturated and highly-concentrated overnight diapers that can be a pain to keep stink-free!
What are the Disadvantages?
Well, besides the fact that they aren't completely water-proof (which could be either an advantage or a disadvantage depending on how you look at it) probably the biggest disadvantages to hybrid fitteds are:

High Prices -  Because they are hand-made and use premium materials, hybrid fitted diapers are fairly pricy: diapers usually range between $28 and $38, plus shipping, but some go even higher!
Limited Availability - Big name manufacturers really haven't gotten into selling hybrid fitteds yet.  Because of this, they can also be hard to get, especially if you are going after a limited edition print or a popular brand.
Where Can I Buy Hybrid Fitteds?
The majority of hybrid fitteds are made by WAHM (work-at-home-mom) businesses that stock limited quantities of their products via Etsy, Hyena Cart, or their own websites.
Welcome to the wonderful world of "stalking the stockings".  Many WAHMs stock their diapers once every week or two, selling between 10 and 30 diapers at a time (but there are some of bigger brands that have more than one seamstress sewing diapers too!)  If you are interested in purchasing a hybrid fitted (or more than one), you are likely going to need to discover a brand new WAHM brand before their popularity surges, or get fast fingers.

To find out when diapers will be stocked and see previews, watch the brand's Facebook page, and join their buy/sell/trade Facebook group if they have one.



If the thrills (and disappointments!) of stockings aren't for you, a few WAHM's offer some of their diapers for sale through the following cloth diaper retailers:

Conclusion
Don't be deceived by the name!  Hybrid fitteds are very different than traditional fitted diapers.  Hybrid fitteds are a cross between all-in-one and fitted diapers.  This new and very popular cloth diaper option offers superior absorption and breathability with the uniqueness that cute prints and customized hand-made designs are known for.
Our Favorite Hybrid Fitteds

It's probably good for my bank account that I haven't ventured too far into the world of hybrid fitted diaper brands yet.  Below are 3 of the brands I have purchased and my thoughts on each.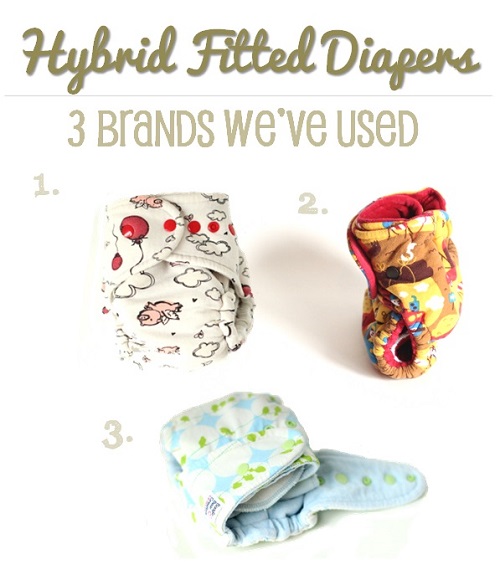 Featured Hybrid Fitted Diapers

Green Bumkin
Butt-Ons

Boogie Bear Creations
Green Bumkin Hybrid Fitteds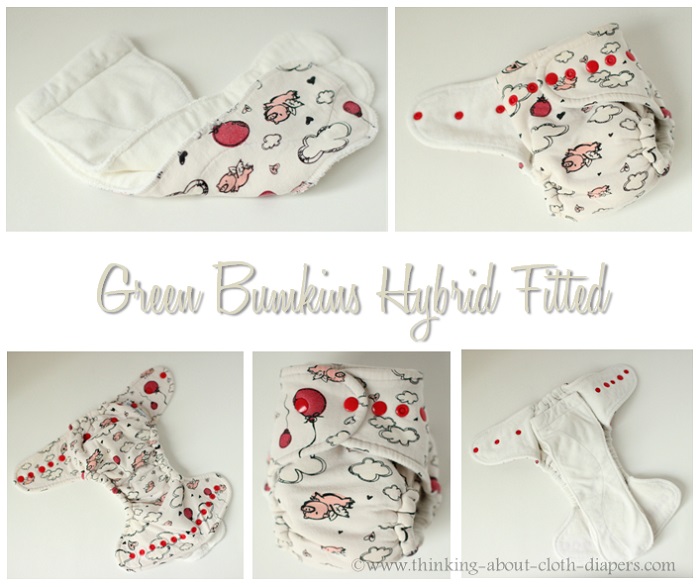 One-size fits 15 to 35+ lbs, offers fold-down rise snaps and cross-over waist snaps to offer smaller size range for younger babies.

The snap-in soaker is folded over and stitched, and consists of 2 layers of heavy bamboo fleece, 1 terry, and a cotton velour (all x2) for a total of 8 layers.  The layers are also sewn in a wavy design, which I find helps it to lay flat without any shifting of fabric.  I find it does take a bit longer to dry because it is stitched across the fold.
Diapers are turned and top-stitched
Green Bumkin diapers are made in Canada, and she specializes mostly in embroidered all-in-twos, but offers a few hybrid fitteds each stocking.

Prices: $34-36 each, available from Green Bumkin's Hyena Cart.  Follow their Facebook page for stocking information.
Butt-Ons Hybrid Fitteds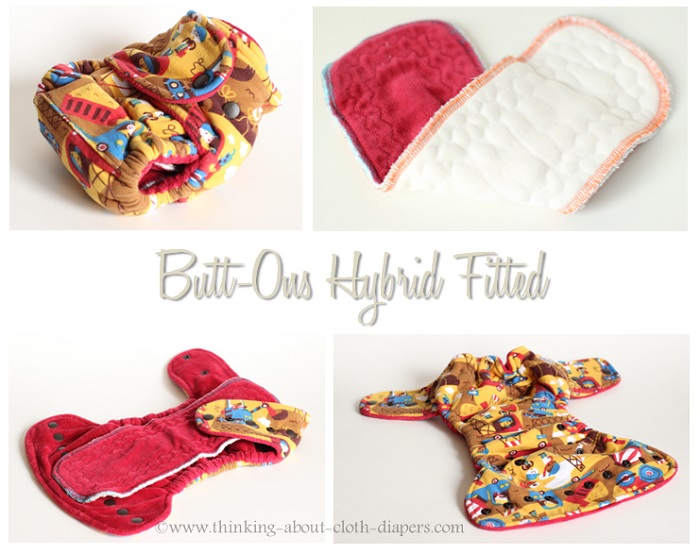 Sells both newborn and one-size (10-35+ lbs) hybrid fitteds
Features a lay-in soaker with 2 layers of super heavy organic bamboo topped with velour.  This soaker offered me 2 hours or so of absorbency during the day, but would require additional absorbency for night-time use.

2 options for rise adjustment on one-size diaper - snap-down rise (not offered by many makers of hybrid fitteds, but we love how you can set it and forget it until baby grows) and fold-down rise snaps

You can read our full review of Butt-Ons' hybrid fitted here.
Prices range from $28 to $35, and Butt-Ons cloth diapers stock every second week on Hyena Cart.   Follow the Butt-Ons Facebook page to be notified of stockings. 
Boogie Bear Creations Lil Dreamer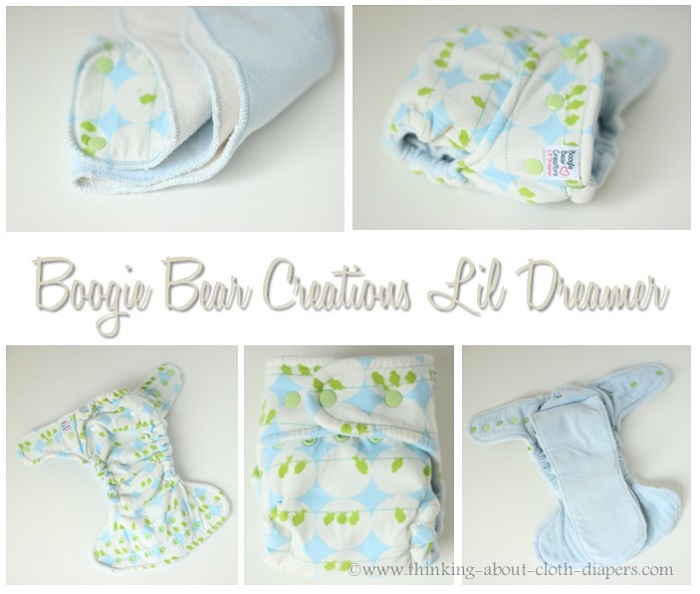 Offers sized hybrid fitteds (newborn - 7-13 lbs, Lil Dreamer 10-20 lbs, DayDreamer 15-35+ lbs).  We retired our newborn diaper when my son hit about 16 lbs, and are still using our Lil Dreamer at 20 lbs.

Features a snap-in soaker which is secured with 2 snaps, and is fold-over style made up of with 2 layers of heavy organic bamboo topped with velour, plus a 2 layer snap-in heavy organic bamboo booster backed with coordinating or matching knit fabric to diaper print (total 6 layers of heavy organic bamboo) plus velour.  It is incredibly absorbent - I use this diaper, as is, overnight with a wool cover and have never had a leak.
I love how this soaker dries just as quickly as the diaper.  I found with the newborn diaper that in the earliest stages, I left the insert out and used only the soaker to eliminate bulk during the day (until more absorbency was needed).

Boogie Bear offers a unique design called "Double Snap Rise" (DSR).  It offers two rows of front snaps to adjust the size for smaller babies, and extends the rise length (and size range) of this diaper (you can see the second row in the middle bottom photo above)
Boogie Bear Creations hybrid fitteds offer an extra layer of hidden fleece in the wet zone - as a result of this plus all of the absorbency in the insert and doubler, we've been able to use this diaper without a cover for 4+ hours during the day without leaks.

Disclosure:  I have been a fan of Boogie Bear Creations since reviewing their all-in-two diaper (purchased myself, no longer available) when it first launched.  I have worked with Melissa on giveaways in the past, and adore her diapers and clothing business!
Prices:  Range from $25 (NB) to $37, customs are available.  Newborns stock on Bitty Fluff Hyena Cart on Fridays, clothing sets and other diapers stock on BBC Hyena Cart.  Follow their Facebook page to find out about stockings.

Disclosure: The opinions expressed in this post are entirely my own, and your experience with the product may differ from mine. I only recommend products or services I use personally and believe will be good for my readers. This article contains affiliate links.  I am disclosing this in accordance with the Federal Trade Commission's 16 CFR, Part 255: "Guides Concerning the Use of Endorsements and Testimonials in Advertising." For more information, see our Disclaimer and Copyright.
More in Our Types of Cloth Diapers Series

Sponsor Love