Cloth Swim Diapers
Keeping Your Baby's Bottom Well Covered in the Swimming Pool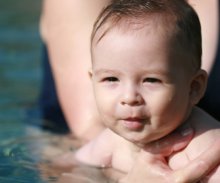 Planning to take your baby swimming? Here's why you need to look at cloth swim diapers, even if you never plan to put a cloth diaper on your baby in their life. Learn more and read up on popular brands, too!

We provide an overview of why swim diapers are important, and also compare some great cloth swim diapers that are sure to do their part to keep pools safe if your baby has an accident in the pool.
Swim diapers are made for to be worn under your baby's bathing suit. They protect your baby's bathing suit and the pool water from excrement. In other words, swim diapers are designed to catch poop. We all know how unpleasant poop can be - and no one wants to deal with it at the swimming pool!


Swim diapers are mandatory for children under 3 at most pools. And here's why: If your baby poops in the pool, and it's not contained in a swim diaper, you could be kicked out. Even worse, the pool may need to be closed to all swimmers for 24 hours to deal with the contamination and treat the water.
At Public Pools

Fecal contamination is a serious problem for swimming pools - so much so that most are required to shut down if they discover poop in the pool! No one wants to catch nasties like E. coli, C. difficile, Giardia, or Legionella, which can be spread through fecal matter.


Most public pools have rules in place for everyone's safety. Symptoms of microbial contamination from fecal matter can cause vomiting, diarrhea, rashes, and other problems. While we all know that it's not very likely that your baby would have any serious communicable diseases, rules are put in place as a precautionary measure to protect everyone who visits the pool.


At Private Pools

Swim diapers are important even if you have a pool in your own backyard, or know someone who does. Since private pools don't have commercial-grade water filtration and treatment systems, and bacterial testing is not as frequent, microbial contaminants can multiply quickly. You don't want your baby to get sick any more than you want to pass along unknown infections to friends and family!
Disposable Swim Diapers


Regular disposable diapers are made to absorb liquid. This means that as soon as your tot hits the pool, their diaper will swell up... making them uncomfortable and ineffective! Regular disposable diapers will become soggy - and saggy! - and definitely won't absorb urine once your baby is in the pool, but they may not even catch your baby's poop if an accident happens!


Disposable swim diapers, such as Huggies Little Swimmers and Pampers Splashers, are designed with absorbent materials and special leak guards to help contain messes without take on water like regular disposable diapers. Like all disposable diaper products, disposable swim diapers are an ongoing expense, and can be quite wasteful if you're taking your little one swimming on a regular basis. There is also some question as to whether disposable swim diapers are truly effective.


We tried the Huggies Little Swimmers, and they seemed to fit well - but at almost $1 a piece, a trip to the pool or beach added up quick, especially if our little man decided to go back into the pool later on in the day.



Cloth Swim Diapers

Cloth swim diapers are an affordable and popular option for parents who want to take their baby swimming. Just like your own swimsuit, cloth swim diapers can be washed and used again and again!


Your baby will enjoy swimming much better if he or she isn't weighed down by a bulky, uncomfortable diaper to get in the way! We provide an overview of several of the popular brands further down in this article. Most styles can be worn alone, or can go under a baby bathing suit.



Can I Use My Regular Cloth Diapers?

Before we discovered cloth swim diapers, we tried using a regular pocket diaper without the insert. The pocket shell did seem to work, but it filled with water and didn't allow for any air circulation. Cloth swim diapers are different - they are made with special mesh liners and breathable exteriors.


For the low cost, it really is worth buying a swim diaper - plus you can save your regular cloth diapers from the effects of chlorine! This harsh chemical which will break down the elastic and the waterproof laminates anyway!
As an extra precaution, lots of swimming pools are now requiring children under 3 to wear plastic pants over their swim diapers, whether you choose cloth or disposable. In cloth diapering, plastic pants have become pretty well extinct because of all of the other great options, so these can be hard to find. If you know your pool has a rule about plastic pants, our friends at ClothDiaper.com carry a very affordable, 100% chlorine-free PEVA plastic pant, made by Gerber.
If they don't fit snugly, cloth swim diapers won't contain accidents in the pool.


Even if you never plan to put a cloth diaper on your baby in their life, you need to take a look at cloth swim diapers. Cloth swim diapers can be worn on their own, or you can put them under a regular swim suit. Lots of cloth diaper brands are now adding a line of swim diapers to their product offering.


Wet bags are awesome for wet swimming gear!
A large reusable wet bag is perfect for keeping wet towels and swimsuits from soaking other stuff in your beach tote! You can buy wet bags from lots of cloth diaper retailers and from online retailers such as Amazon.com. If you want, you can also check out our tutorial on how to make your own zippered wet bag. Keep in mind, the tutorial makes a 14x16" wet bag. You might want to increase the dimensions if you plan to use your bag to tote towels and other items!
Brands of Cloth Swim Diapers
AppleCheeks Swim Diaper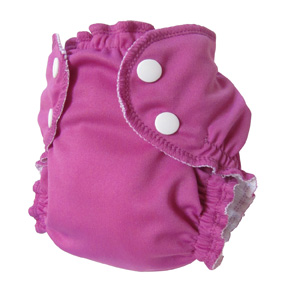 These excellent swim diapers consistently rate as our our readers' favorite
Two layers of 100% polyester mesh
Snaps at waist and separately adjustable snaps at the thigh for a comfortable fit
Sizes: Size 1 (7-20 lbs), Size 2 (18-35 lbs)
Made in Canada
$19.00 from Nicki's Diapers
$20.97 from Nature Bumz in Canada

Smart Bottoms Side Snapping Swim Diapers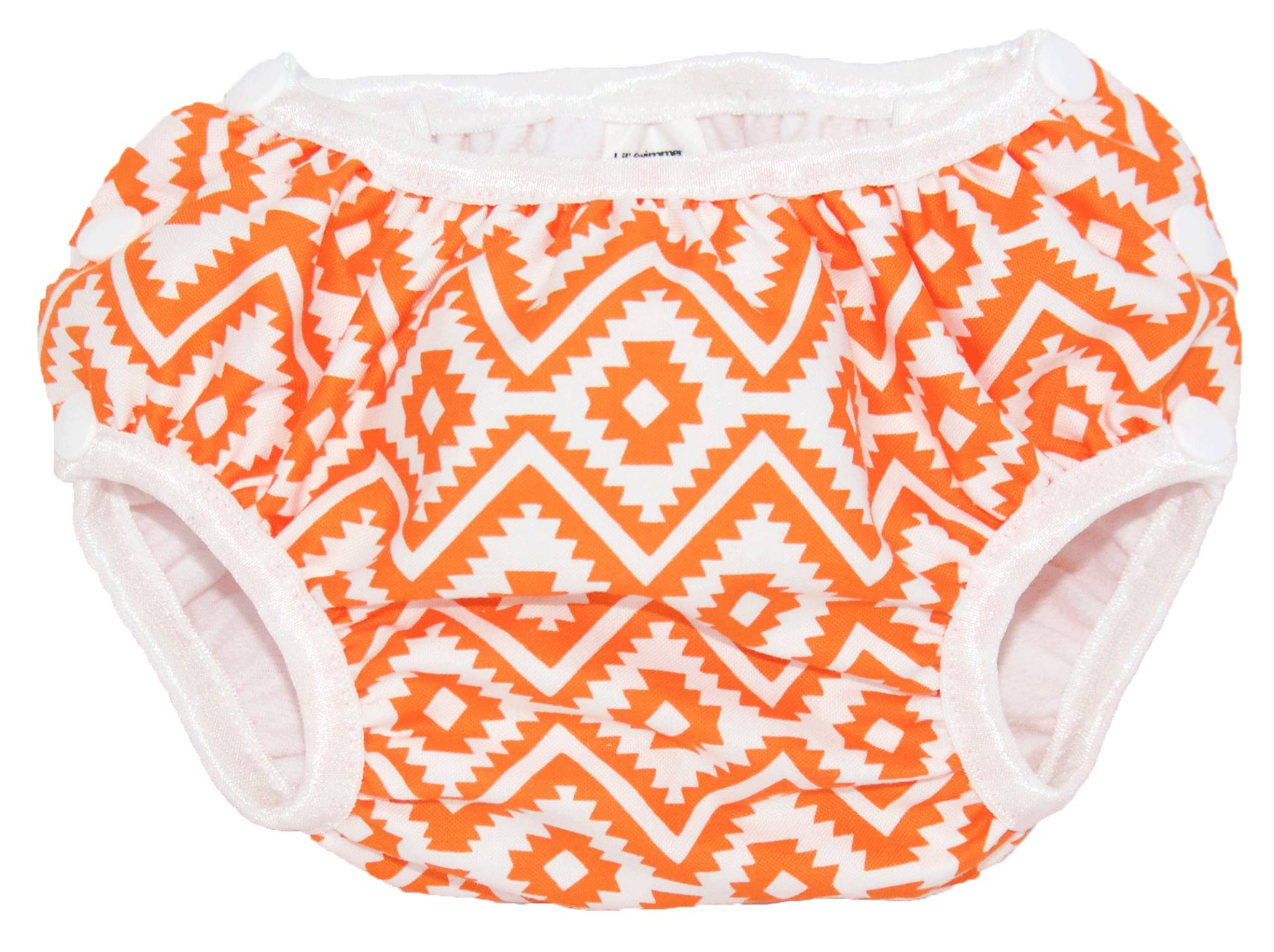 Lined with polyester that wicks moisture away from your baby's bottom to avoid rashes
Soft leg and waist elastic
Outer layer made from 100% organic cotton
Available in a variety of cute prints
Sizes: Small (8-16 lbs), Medium (16-24 lbs), Large (24-40 lbs)
$15 from Smart Bottoms
Gabby's Pull-On Swim Diapers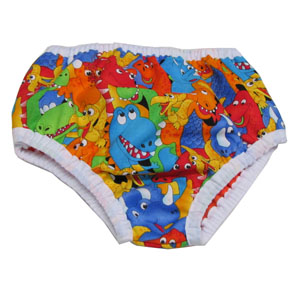 Soft flannelette (100% cotton) inner layer and oxford nylon outer layer
Latex free elastic at legs and waist
Also makes a matching bikini top
Sizes: Small (6-14 lbs), Medium (14-25 lbs), Large (25-35 lbs), X-Large (35-45 lbs)
$6.00 from ClothDiaper.com

Gerber Waterproof Plastic Pants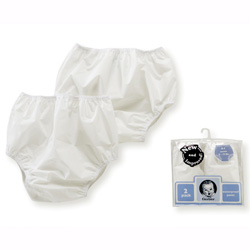 If your pool requires a plastic cover over your baby's swim diaper, the Gerber pull-on is an inexpensive and reliable option.
Made of 100% chlorine-free PEVA
Nylon-covered elastic legs and waist
Can also be used as a diaper cover for prefolds
Sizes: 0-3 months (up to 12 lbs), 3-6 months (12-16 lbs), 6-9 months (16-20 lbs), 12 months (20-24 lbs), 18 months (24-28 lbs), 2T (28-32 lbs), 3T (32-35 lbs), and 4T (35-39 lbs)
Plastic pants can be very hard to find, so ClothDiaper.com is a great source! They carry them right up to size 4T.
Mother-Ease Baby Swim Diapers
Made of soft stretchy, lycra, just like your own bathing suit, with mesh on the inside to catch solids
Reinforced side snap closures for easy clean-up
Elasticized "poop-catcher" netting
Made in Canada
Sizing: Small (10-18 lbs), Medium (18-30 lbs), Large (30-40 lbs)
$22.95 at Diaper Junction

Swimmis from Bummis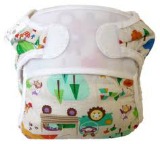 Outer cotton print, with middle layer of coated nylon layer and cool inner polyester mesh lining for easy clean-up
Comfortable, soft Lycra around legs and waist
Adjustable Aplix (similar to Velcro, except softer) provide a snug fit
Sizes: Small (9-15 lbs), Medium (15-22 lbs), Large (22-30 lbs)
Matching sun hats and UV (rashguard) t-shirts available
$14.49 from Nature Bumz in Canada
$14.50 from Diaper Safari with free US shipping
Monkey Doodlez Swim Diaper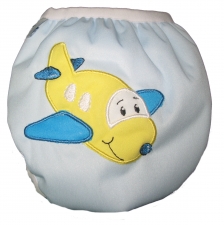 Soft polyester fabric inner
Soft fold-over elastic around legs for a snug fit
Will not absorb water
Sizes: Small (10-18 lbs), Medium (15-25 lbs), Large (25-35 lbs)
$21.95 from Lagoon Baby

Imse Vimse Swim Pants
Can be worn on its own, or under a swim suit
Girls prints have ruffles around the top, while boys have cute prints
Sizes: Small (11-17 lbs), Medium (15-22 lbs), Large (20-26 lbs), X-Large(24-31 lbs), Super Large (28-35 lbs)
On sale for $10.49 at ClothDiaperOutlet.com

iPlay Cloth Swim Diaper

100% polyester fabric, PCV free with terry cloth liner
SPF 50
Sizes: Small (10-18 lbs), Medium (18-22 lbs), Large (22-25 lbs), X-Large (25-30 lbs), 3T (30-38 lbs), 4T (38-46 lbs)
$17.99 at Diaper Junction
Conclusion
Swimming will be a much happier experience for your baby if they are comfortable. Cloth swim diapers can save you a lot of money, and are typically more reliable and comfortable than disposable ones anyway. Hope you enjoy the beach or the pool!



Disclosure: The opinions expressed in this post are entirely my own, and your experience with the product may differ from mine. I only recommend products or services I use personally and believe will be good for my readers. This article contains affiliate links.  I am disclosing this in accordance with the Federal Trade Commission's 16 CFR, Part 255: "Guides Concerning the Use of Endorsements and Testimonials in Advertising." For more information, see our Disclaimer and Copyright.
More in Our Types of Cloth Diapers Series

Sponsor Love