Pocket Diapers: Simplicity and Customization

Pocket diapers are a two-part system, with a shell (pocket) and an insert that is tucked inside the pocket. Find out why they are such a popular and easy cloth diaper option for new parents.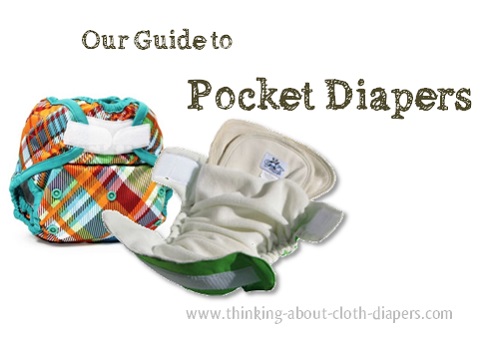 Of the various styles, pockets are one of the most popular cloth diapering options for new parents.  Pocket diapers offer simplicity of use as well as customization of absorbency.
Pockets are a two-part system, with a shell (pocket) and an insert that is tucked inside the pocket. They have a waterproof outer (usually made of PUL), and a stay-dry inside layer made of wicking materials such as microfleece, minky, or suede-cloth. The two layers are sewn together with an opening (usually at the back, but some put the opening at the front or have dual openings at both the front and the back) to allow parents to insert absorbent material into the pocket.
Pocket diapers offer customized absorbency and quick drying times, and with wicking fabrics, they keep baby feeling dry even after they have wet the diaper.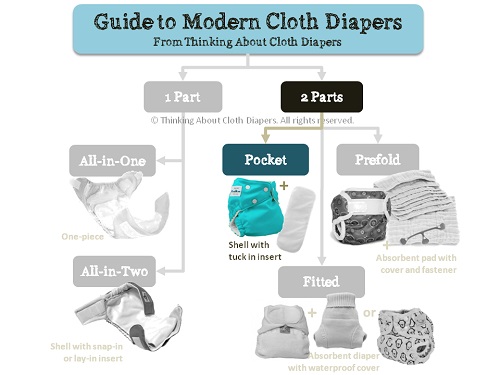 Benefits of Pockets

Dry quickly
Easily customized absorbency with lots of options for inserts

Wicking fabrics (microfleece and suedecloth) used in most pockets pull moisture away from baby, so they feel dry - perfect for babies who fuss at the least bit of wetness!
Easy clean-up - messes spray or wash off of inner fabrics easily, generally with little to no long-term staining
How Much Absorbency Do You Want?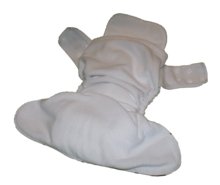 To use a pocket diaper, you must "stuff" the insert into the pocket.  Both the shell and the insert are laundered after every wear.  Generally, you need to remove the insert before washing (except if the brand claims that the inserts will agitate out in the washing machine).  Pockets are then "re-stuffed" before each use.
While many pocket diapers come with inserts (usually microfiber), one of the main benefits of pockets is that you can customize the level of absorbency.  This customization feature makes pocket diapers incredibly versatile!
Experiment with types of inserts, or add extras for night-time use.You can use anything as an insert (including prefolds, or even towels if you run out of inserts!) If you're looking for more information on absorbency options, our cloth diaper inserts article is a must-read!

Tip:  Keep in mind when comparing brands and prices - some come with an insert (usually microfiber) while for others you must purchase separately!
Convenience: An Easy Cloth Diaper
Once they have been stuffed, pocket diapers are as easy to use as all-in-one diapers. These diapers are a good cloth diaper at daycares and for daddies, since once they are assembled, they can be put on quite similarly to disposables.
Because of the two-part system, pocket diapers dry much more quickly than all-in-ones, but all-in-ones are more convenient because they do not need to be stuffed.
How Much Do They Cost?
Most pocket diapers range in price from $10 to $25 including inserts, making them more expensive than prefolds and covers, and comparable to all-in-ones.  Because some pockets include inserts and some do not, don't forget to consider this when shopping!

This article discusses our favorite pockets.  While less expensive pocket diapers are available, none except for the Kawaii Snazzy Minky are in our favorites.  If price is your main consideration, don't forget to read our comparison of 6 popular  cheap pocket diapers here.
Some of Our Favorite Pocket Diaper Brands

Pockets are one of the most common cloth diaper styles on the market.  We've tried a lot of pocket diapers, and below is a list (in no particular order) of some of our favorites!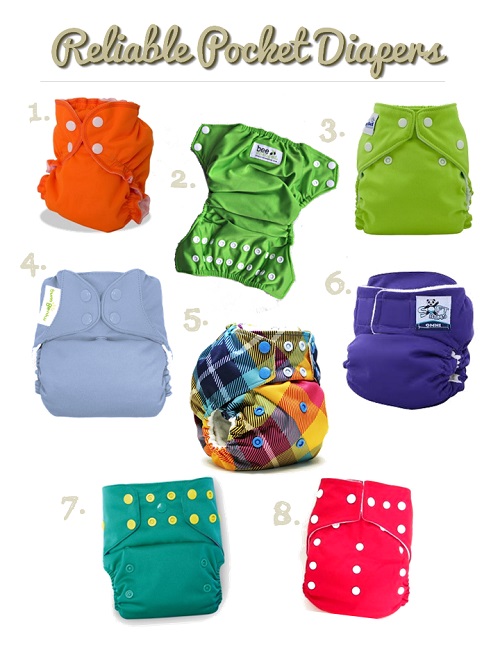 Featured Pocket Diapers

Applecheeks
Bee Changed One-Size

FuzziBunz Perfect Size
BumGenius 4.0 One-Size

Rumparooz One-Size

SoftBums Omni One-size

Funky Fluff 2.0 One-Size in bamboo

Kawaii Snazzy Minky One-Size

AppleCheeks
Two size system - Size 1 fits from 7-18 pounds, Size 2 from 18-35 pounds
Inserts must be purchased separately and can be used with both sizes, which saves money.  Bamboo, overnight bamboo, and fleece-topped microfiber are available.

Snap closures

Polyester fleece inner with wide pocket opening in the center of the diaper
Smart design allows this diaper to be used as either a cover or a pocket

No pulling messy or wet inserts from the dirty diaper!  The pocket does not need to be unstuffed, since the absorbent inserts fall out during washing
$19.00 in the USA from Nicki's Diapers

$19.99 in Canada from Lagoon Baby

Bee Changed One-Size
Fits 8-35 lbs
Cross-over waist with snap closure

Suede cloth inner (bamboo and "ultra cool" suede cloth options also available)

Tummy elastic feature is a bonus that provides a snug fit and stops leaks, especially when baby is on their tummy

Includes 2 microfiber inserts - a full one and a contour snap booster (can be used as a newborn insert) - hemp insert sets can also be purchased for $8 each

Feel Good About It!  The Little Bee Company's mission is to provide high quality diapers while helping build awareness for orphanages around the world.  For every diaper you purchase from them, they will donate another one just like it to an orphanage in Africa, Asia, or South America.  Through their "Diaper Drops", they are helping improve sanitation for children and their care providers.

$20 each with microfiber inserts directly from The Little Bee Co

Fuzzi Bunz Perfect Fit Pocket Diapers

Not many manufacturers still make sized pocket diapers, but FuzziBunz was one of the first on the market and still offers a sized version with 4 sizes: X-Small - 4 to 12 lbs, Small - 7-18 lbs, Medium - 15 to 30 lbs, Large 25 to 40+ lbs.
I've found that the current FuzziBunz diapers fit big - we couldn't use the Small on my 8 lb son at birth, and he fit the mediums from 18 to 35+ lbs
Snap closures

Inner is polyester microfleece

Pocket opening is at the back
Come with one microfiber insert and replacement leg elastics with their "easy change" elastic feature

Read our full review of the Fuzzibunz Sized diapers here
$13.99 in the USA from Little For Now

$13.97 in Canada from Nature Bumz

BumGenius 4.0 One-Size Pocket

Snap down rise with 3 rows of snaps to provide small/medium/large settings to last from 7 to 35 lbs.
Available in both snap and hook and loop closures with the stretchy spandex tabs that help provide a snug fit
Generously sized!  While technically a one-size, I didn't get a great fit with these until about 10 lbs.  They are wide throughout, making stuffing much easier for bigger hands.

Wide back pocket opening
Suede cloth inner with PUL strip at front of inner to stop leaks
Come with 2 microfiber inserts - newborn (doubler), and a snapping one-size insert
$16.99 in the USA from Little For Now

Rumparooz G2 One Size Pocket
These diapers fit on the smaller end. The manufacturer suggests a weight range from 6 to 35 lbs, but it is visibly smaller than lots of the other one-size options available and has a short rise, and I've found that they do not fit toddlers very well.
Snap and hook and loop closure options available

Suede-cloth inner
Great at containing newborn messes!  These diapers have a dual inner gusset and a "poop scoop" at the back that help keep messy blowouts where they belong - inside the diaper!

Comes with Rumparooz's 6•r (2 part) microfiber insert, which includes a one-size insert, plus a contoured newborn insert. The 2 inserts snap together with adjustable positioning.  Hemp ($10) and bamboo ($12) insert sets are also available.

You can read our full review of Rumparooz G2 diaper here
$23.95 in the USA from Nicki's Diapers

$25.95 in Canada from Lagoon Baby

SoftBums Omni One-Size

SoftBums are one of my all-time favorite brands because they are one of the only one-size brands I've tried that truly fit both a newborn and a 35 lb toddler.
Great fit, even on newborns!  They rely on a patented "Slide2Size" adjustable leg elastic toggle to provide infinite size adjustment with the fabric spread out around the leg, instead of bulked up in the belly
Available in both snap and Velcro closure

Inner is made of soft, unbleached microfleece
Wide back pocket opening, also has a snap to allow insert to be laid on top as an AI2 as well.

Made in the USA
Inserts are not included in the price.  Fleece-topped microfleece ($4.95) and bamboo fleece ($8.95) plus disposable inserts and overnight options are available and are also compatible with SoftBums Echo AI2

$21.95 in the USA from Nicki's Diapers

$25.24 in Canada from Lagoon Baby
Funky Fluff 2.0 Bamboo

Funky Fluff's bamboo diaper is another of my favorites!  While it was bulky initially, I did get a good fit with this one on my newborn from 8 lbs, and it fit my 40 lb toddler too!
Cross-over waist snaps and hip snaps help provide a reliable fit at smaller sizes, and 4 rows of snaps on the front provide lots of rise adjustments

Features both front and back pocket openings and snaps to secure inserts if you wish (they can also be laid on top of the pocket)
Natural fiber against the bum!  Inner is rayon from bamboo terrycloth, perfect for little ones that might have sensitivities to suedecloth or those looking for a natural fiber option.  Note:  Bamboo is not a "stay-dry" fabric, but it is breathable and thermal regulating, meaning that it keeps your baby comfortable and cool when wet, and it dries quickly!
Funky Fluff also makes a stay-dry suede cloth pocket diaper with suede cloth topped microfiber inserts, but I found it didn't fit at birth as well as the bamboo diaper did.

Comes with 2 bamboo terry inserts - a full-size and a newborn/doubler
Read our full review of Funky Fluff's diapers here

Kawaii Snazzy Minky

Generously sized, wide through the legs

Snap closure with hip snaps and cross-over waist snaps
Wide back pocket opening
Outer is made up of 2 layers of laminated soft minky (furry) fabric, providing a durable and comfortable fit

Strip of PUL on inside prevents leaks from the tummy
Comes with 2 microfiber inserts
Affordability! This is the only pocket diaper that makes it onto both our list of Pocket Diapers Under $12 and Our Favorite Pockets

Conclusion
Pocket diapers remain one of the most popular choices for new parents because of their simplicity and customization.

Learn more about other types of cloth diapers by continuing on to All-in-Two Cloth Diapers.  To access the other articles in our series on types of cloth diapers, go back to Types of Cloth Baby Diapers.
Links Within This Article

For your convenience, we've listed all of the articles on our website that are linked to from this article below:
Sponsor Love