AI2 Cloth Diapers - Affordability and Flexibility
If you're looking for something quick and easy, AI2s may be the cloth diaper answer you've been searching for!  These diapers offer an almost perfect compromise between convenience, functionality, and cost.  This article provides a comparison of all-in-twos, including ease of use, absorbency, drying times, and cost.  Plus, we provide an overview of some of our favorite all-in-two diapers.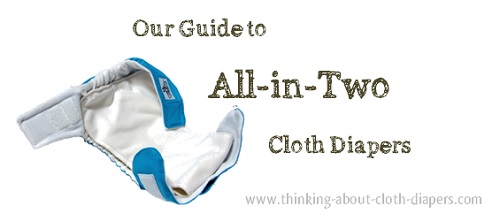 AI2s have a detachable snap-in or lay-in insert, which means that the shell can be reused for more than one diaper change.  You just remove the wet dirty insert and replace it with a clean one!   The benefit of a removable insert means you can still customize the diaper's absorbent inner, and they dry much faster than traditional all-in-ones.
A Comparison Between All-in-One and AI2 Cloth Diapers
Ease of Use
Sitting between all-in-ones and prefold/cover types, All-in-Twos (AI2s) are made up of a waterproof cover and absorbent material that can be detached. In a true AIO diaper, the absorbent material is sewn into the diaper.

Both diaper styles are very easy to use. While AI2s do take some assembly, the result is improved drying time. AIOs, on the other hand, do not need any assembly, but can take longer to dry completely, especially if they are made up of multiple layers of fabric all stitched together. Check out our article on all-in-ones here.
Cost
All-in-twos (where shells can be reused with multiple inserts) typically work out to be lower cost options than all-in-ones, with similar ease of use. Because inserts cost less than shells, you will save money by buying fewer shells and more inserts.

How many do I need? Most manufacturers recommend 4-6 shells and 20 to 24 inserts to cloth diaper a baby full time using AI2s. If you plan to start with a newborn, you may need to up these recommendations to around 8 shells and 30+ inserts, since newborns go through so many diapers. Read this article for more on cloth diapering a newborn.

While some diapers come with specialized inserts, you can sometimes also save money by substituting inexpensive inserts into your all-in-two systems. For example, many parents use simple cotton pre-folds in their Flip diaper covers.
Absorbency
AI2 cloth diapers usually have more flexibility than AIOs when it comes to absorbency. Most all-in-twos come with multiple fabric options, (bamboo, microfiber) so that you can choose the absorbency. Because the absorbent inserts snap in, you can also customize with extra doubler pads.

Some all-in-twos, known as hybrids, have the option of disposable inserts. This gives you the choice of using cloth inserts at home and at night, and disposables when you are out and about or if your daycare doesn't accept cloth.

The most common hybrid brands are Gro-Via, gDiapers, and Flip. All three brands make shells that can be used with both disposable and cotton cloth inserts.
Drying Times
Besides the flexibility of absorbency, the other main benefit of all-in-twos is that they typically dry faster than traditional all-in-one diapers. Removable inserts make for easier rinsing clean, especially in high-efficiency (front-load) washers, and drying times can be reduced significantly, especially if the inserts and soakers unsnap into multiple pieces (for example, the Lil Helper).
Sized vs One-Size

Many AI2 manufacturers have designed their diapers to be one-sized diapers that fit all the way from 8 to 35+ pounds.   While the range may say "newborn to potty-training", many one-size diapers do not fit full-term newborns immediately, because they aren't snug enough at the waist band or legs.  Additionally, one-size diapers are usually quite bulky on newborns.
Of the diapers we review below, we found that the SoftBums Echo provides by far the best fit on newborns, followed by Funky Fluff Fusion.  We've provided a photo comparison for each of the one-size brands compared to a Rumparooz Lil Joey (size range 4-11 lbs) in this article so you can see how different they are.

Some brands of AI2s are still sized, including the Mother Ease Duo.  Best Bottoms has a one-size shell with sized inserts, and SoftBums also offers various sizes and fabrics of inserts including a newborn insert.
Great for Daycare

If you're planning to keep your baby in cloth diapers when they start daycare, AI2 diapers can be a great option! In terms of design, they are similar to a disposable, so daycare providers are usually more comfortable with them. Read this article for more on introducing cloth diapers to your daycare.
How do AI2s Compare to Prefold Cloth Diapers?
Prefold diapers and covers were one of the original cloth diaper styles. As a two-part diapering system, they are similar to all-in-twos, except that most all-in-twos have inserts that require no folding.  You can read more about prefold cloth diapers here.
Our Favorite AI2 Cloth Diapers

While the list below may be on the long side, we love the flexibility of all-in-twos!  These diapers truly do bring some of the best features together, and offer affordability and customized absorbency!
Below are some of our favorite AI2 brands, in no particular order.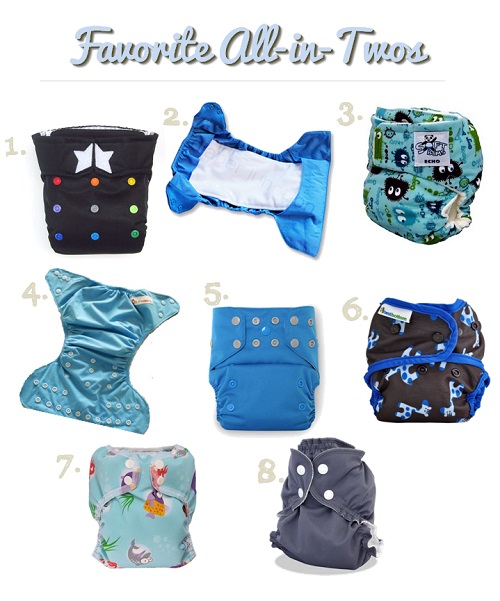 Featured All-in-Two Diapers

RagaBabe 2-Step
Flip
SoftBums Echo
Lil Helper
Funky Fluff Stay-Dry
Best Bottoms
Wizard Duo from Motherease
Applecheeks
Funky Fluff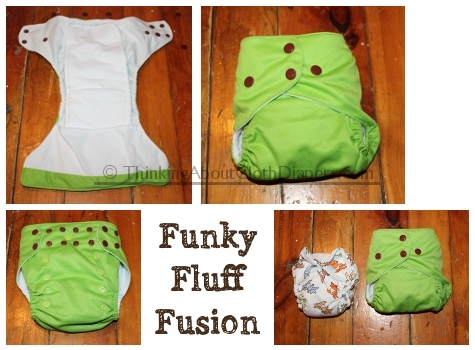 This is the most versatile cloth diaper brand we've found!
With tons of premium features and loads of flexibility - plus a price under $20, we love this functional (or should I say "funktional"?) diaper!
Fits from 8 to 40+ lbs
Available in stay-dry and bamboo
2 Inserts included!  Comes with snap-in newborn and full-size inserts

Read our full review of the Funky Fluff Fusion here
Price:  $24.99 for Bamboo (including 2 inserts), additional inserts $4 to $4.50 each, available from Diaper Junction.
Softbums Echo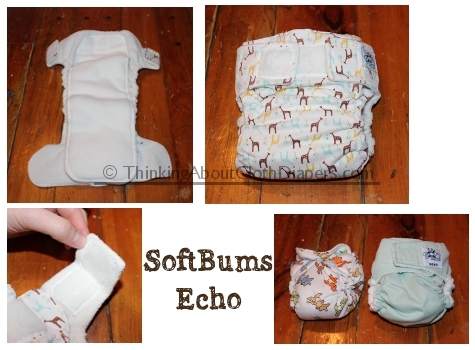 I love the flexibility of this one-size diaper: it will fit most full-term newborns, thanks to the unique adjustable toggle mechanism used to size the diaper by lengthening or shortening the leg elastics
Available in both snap and Velcro closures
Single snap in back of diaper holds insert in place
3 choices of inserts: dry touch (2 layers of microfiber covered with a layer of stay-dry fleece), super dry touch (3 layers of microfiber plus fleece), and organic bamboo
Additional snap-in doubler can be purchased for added absorbency
$21.95 per shell, inserts range from $6-11 and doublers from $4 to 5, available with free shipping from Nicki's Diapers.
Flip Diaper Covers & Inserts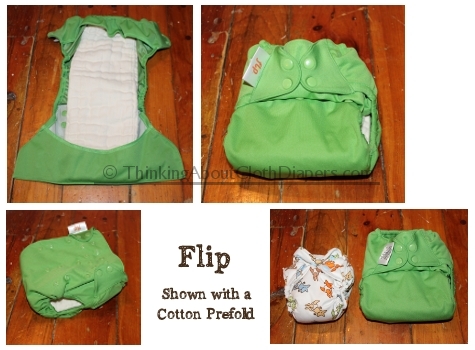 This one-size diaper cover from the makers of BumGenius, fits babies from 8 to 35 lbs, thanks to the snap-down rise. Note: We've been able to use this cover past the 35 lb mark for night-time use, but this might depend on your toddler's build
Outer PUL layer, with a stretchy spandex tab with 2 snaps on each side, with end flaps that you tuck the insert into so it stays in place.  Also available in aplix.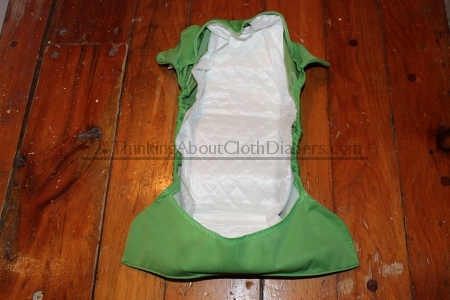 Insert choices of stay-dry, organic cotton, and disposable (shown left)
After we finished up day-training, the Flip became our go-to night-time solution. We could use 2 to 3 covers for the week, and we opted to use disposable inserts, rather than wash a VERY small diaper load every 2 to 3 days
There is also a compatible training pant cover, which can extend this system even more.
Covers $13.95, inserts range from $0.33 each for disposable inserts ($6.25 for 18), to $1.99 for stay dry, and $7.95 for Organic Cotton from Diaper Junction
Lil Helper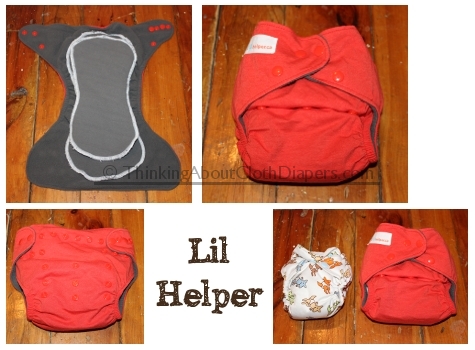 One-size, fits from 7 to 35 lbs, with adjustable rise snaps
3 choices of fabric - charcoal bamboo with a bamboo PUL outer, organic bamboo with a polyester PUL outer, and cotton with a polyester PUL outer
All diapers come with one snap in insert and an additional snap-in soaker for a total of 7 layers of absorbent fabric
We tried the charcoal bamboo, which has a unique look. The outer is a knit bamboo, which is super soft and oh-so-different than your standard PUL. There is a hidden water-proof layer inside, and then the inner fabric is a grey bamboo. It's got great absorbency, and dries very quickly.
Baby Do Good Program - Lil Helper donates a diaper for every 3 purchased
Cost: Insert plus soaker plus cover - $20 to $26 depending on fabric type. Additional insert and soaker sets $8 to 10, available from Amazon.
MotherEase Wizard Duo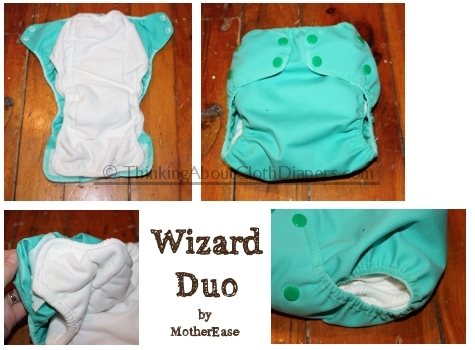 Inserts snap into cover with 6 snaps, covers can be reused 3-4 times before laundering
Once assembled, this diaper is as simple to use as the Wizard Uno
The Duo Cover can be reused a number of times by snapping in a clean Duo Insert.
Gussetted elastics on the snap in inserts, plus elastic legs on the cover make for excellent mess-containment
Inserts may be either one-size (fits from 10-35 lbs) or 2 sizes (8-18, and 18-35 lbs)
Insert fabric choices are unbleached cotton terry, bamboo terry, and a unique Stay Dry fabric that is not fleece and microfiber! A night-time stay-dry insert is also available.
4 sizes of covers: XS (8-12 lbs), Sm (10-18 lbs), Med (18-27 lbs), Lg (27-35 lbs)
While pricey, this is an amazing AI2 diaper
Cost: Covers $16 to 19, Inserts range from $12 to $19 for one-size depending on fabric choice, and $11 to 19 for sized.  Available on Amazon.
Ragababe 2 Step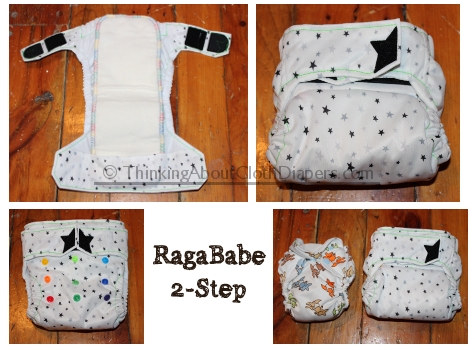 The RagaBabe is a recent addition to our collection.  If you've been cloth diapering long, you'll likely be aware of the cult following that "Rags" have...
I finally broke down and purchased two 2-steps in the Star Candy print - with what they call Skittles snap-down rise, and I haven't been disappointed!

Comes in 3 sizes, Size 0 (4 to 18 lbs), Size 1 (9 to 30 lbs - shown above), and Size 2 (15 to 40+ lbs)

RagaBabe has wide back waist elastic, which I love - it's great at containing messes!

They also have strong aplix fasteners, and an optional cross-over waist loop patch to improve the fit on young babies.  The hook and loop doesn't curl and remains sticky

Inserts are organic cotton sherpa and 2 layers of rayon from bamboo and the cover is lined with suede cloth
Inserts are sized, doublers or newborn inserts are also available
$35.95 to $39.95 each with 1 set of inserts. Available at Nicki's Diapers. 
AMP Duo

One size, fits from 8 to 35 lbs, thanks to snap rise settings, but sized diapers are also available
Outer PUL layer and inner fleece, with 2 snaps per tab
Inserts are laid inside the shell, between the elastic leg gathering.
This was our go-to diaper for the first few years. I bought 20 of these in size small, which got us from 1 month to about 8 months, and then we purchased almost all of our large diapers in this make as well. These diapers offer a great fit
This unique, made in Canada, diaper offers flexibility to be used both as a pocket and an AI2, due to a pocket opening from the front - this feature is great for daycares, which may not like the non-snapping insert!
Insert choices of hemp and bamboo
Read our full review of the AMP Duo here
Cost: Cover $20, inserts $5.50 to $8 - the hemp are my all-time favorite inserts! 
Conclusion
AI2s have a detachable snap-in or lay-in insert, which means that the shell can be reused for more than one diaper change.  AI2 cloth diapers are my favorite style for so many reasons!  Whether you're looking for simplicity, customizable absorbency, quick drying times, or affordability, you can get it all with an all-in-two!
While every baby is different and we each have our own preferences, we have tested out every one of the diapers above, and feel that they are all reliable.  If you have any questions about AI2s or any other cloth diaper questions, please don't hesitate to contact us or post a question on our Facebook page!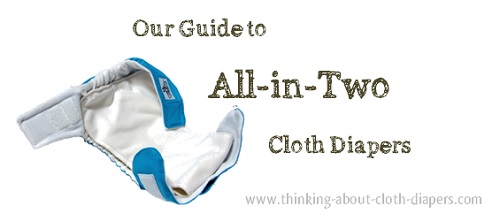 More in Our Types of Cloth Diapers Series

Sponsor Love