How to Make Cloth Diaper Inserts From Items You Already Have
There are lots of ways to make cloth diaper inserts using fabrics you already have around your home.  Read on for more help on how to make inserts, prefolds, and flats from old bedding, towels, and more!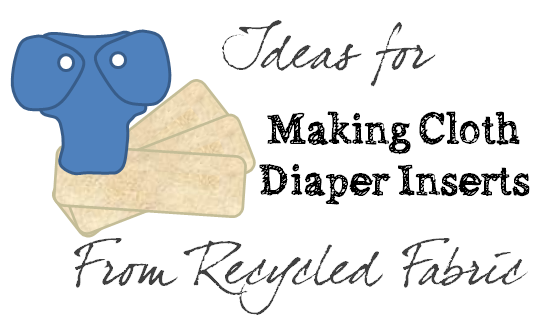 Reusing Common Household Textiles for Cloth Diaper Inserts
Cloth diapering on a budget?  While you can save money by sewing your own cloth diaper inserts out of new fabrics, you can save even more money by re-purposing common household linens into cloth diaper inserts.
The main thing is to ensure that the fabrics you are considering are absorbent.  Items made from cotton or microfiber terry will be the easiest to find:
Terry bath and hand towels, facecloths
Microfiber terry cloths - auto cleaning cloths, cleaning rags
Tea towels
Old 100% cotton sheets (flannel or smooth)
100% cotton t-shirts
Scour your closets, or check out garage sales and thrift stores or even bargain bins for great deals!  To save even more money and reduce your footprint more, try this:  speak to a local thrift store and see if they can set aside items that are stained or show signs of wear or damage and wouldn't be suitable for re-sale!
Preparing Your Fabrics
Before washing any of these items with your cloth diapers, make sure to test them for colorfastness!  To do this, you should wash them on hot with the same detergent as you will be using, and add a piece of white cotton fabric.  If the fabric takes on color during the wash, this means that the dyes in the materials you are considering may transfer to your diapers over time.
The No-Sew T-Shirt Diaper

No sewing machine?  No problem!  This tutorial doesn't even require scissors!  Plus, you can raid your closets for old 100% cotton t-shirts, or pick them up at a thrift store for next to nothing!
The no-sew t-shirt diaper is a super-easy way to cloth diaper your baby.  Simple to fold (once you get the hang of it) and the bonus is, with only 2 layers of fabric, it's easy to clean too.  Every parent should learn how to fold a t-shirt into a cloth diaper - you never know when you'll need a back-up!
Do It Yourself: Making Cloth Diaper Inserts
Cloth diaper inserts are essentially an absorbent pad that is placed inside a pocket diaper or shell.  As simple as they actually are, the terminology around cloth diaper inserts (soakers, doublers, boosters, etc) can be confusing at first.  Our article on cloth diaper inserts is a great place to start. 
Even microfiber inserts are often $2 to $3 each, and ones made from natural materials such as cotton or bamboo can run a lot more than that! But you don't need to buy special inserts - any absorbent fabric can be fashioned into a cloth diaper insert with some basic sewing skills!
Try old terry cloth towels!  Unless they are quite thin, sew just 2 to 3 layers together using a wide zig-zag stitch (or serger if you have one).  Too many layers will mean that they will take a long time to dry.  For dimensions and other helpful sewing tips, check out our full article on sewing your own cloth diaper inserts.
Another great insert material is flannel or woven cotton (such as old sheeting).  You'll want to use 6 to 8 layers of fabric for your insert.  Even then, you may need to "double" up your inserts for over-night. For an example, check out the OsoCosy 4"x14" cotton diaper inserts made from the same great fabric as their popular prefolds, and available from Amazon.com for $9.95 per dozen.

Lots of moms use microfiber cleaning cloths for cloth diaper inserts.  Remember, microfiber can't be placed right next to baby's skin (or it will dry it out) but it does make a good insert for pocket diapers!  Microfiber holds liquid in tiny pores inside the fibers of the fabric.  The terry cloth used in commercially made diaper inserts is usually more absorbent because it has larger loops (and therefore more surface area for absorption).  If you plan to make microfiber inserts from cleaning rags, you'll likely want to use 4 to 5 layers of fabric.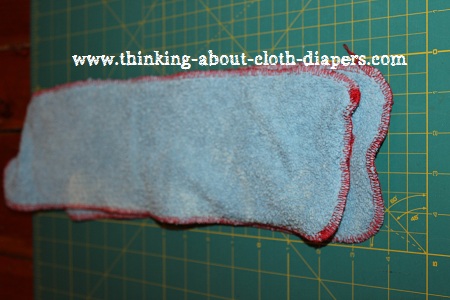 A terry hand towel, damaged by bleach, is re-purposed into 2 2-layer inserts.
Making Prefold Cloth Diapers

Prefold cloth diapers are a popular cloth diaper choice because they are both affordable and versatile.  Since they're not water-proof on their own, you will need to make or buy cloth diaper covers to use with them.  They are usually laid inside a waterproof diaper cover, or you can wrap and fasten them around your baby with pins or a Snappi.
If you have more receiving blankets than you know what to do with, or can track down some old cotton sheets, you have all the material you will need to make your own prefolds!
Here are 3 helpful prefold tutorials:

Make a prefold out of an old receiving blanket.

Make a  "proper" prefold - it shows how to fold all of the layers of the soaker, rather than stitching them in.   This tutorial includes dimensions for all of the prefold sizes, including finished dimensions since the fabric you will be using is already pre-shrunk, whereas most prefold cloth diapers are sold new and quote dimensions prior to shrinking.  Prefolds can shrink up to 25% length-wise during the prepping stage.

Make winged prefolds from t-shirts, although you could also use other fabrics.
You can read more about prefold cloth diapers in our full article here.

Making Flat Diapers

Flats are a very economical diapering choice.  Because they are made with a single layer of absorbent material, they almost never hold onto residues of detergent and urine.  They are easy-care - they can be washed quickly and easily and they dry fast because they are a single layer of fabric.  Flats also require cloth diaper covers to make them waterproof.

Flats are usually made of flannel or birds-eye cotton, but old flannel or 100% cotton woven sheets are a great option to make your flat cloth diapers.  Raid your linen closet, or check out yard sales for old bedding.  The usual finished dimensions for flat diapers are 28x28".  If you have or can borrow a serger, use a rolled hem, or cut with pinking sheers and then finish with a smooth hem.
For a no-sew flat diaper, consider cutting up the body of an extra large t-shirt.  It will offer some stretch, and while the edges may curl up a bit, knit fabrics will not fray in the wash.
Flats can be a great fit for anyone who has a bit of patience for folding.  Lots of people use flats for camping trips when hand-washing and line-drying are a requirement.  Read more about flats in our article here.

More Resources
Looking for more budget-friendly cloth diapering ideas?  Don't miss our other articles:
Cloth Diapering for Under $100: You really can build a stash of cloth diapers without breaking the bank, and we've got several stashes that you can purchase new for under $100

Repairing Cloth Diapers:  If your diapers are at the end of their life, you may be able to save them with some basic sewing techniques.  Plus, if you know the basics of sewing, purchasing cloth diapers in need of repair can also be a great way to save money.
Cheap Pocket Diapers:  Learn more about budget-friendly pocket diapers.  Every diaper on this list is under $12 each, including inserts.
Sponsor Love