Cloth Diaper Column - Cloth Diaper Covers

Plus a One-Size Cover Giveaway too!

Issue #14, September 2013
Welcome to our our September 2013 edition of Cloth Diaper Column!  This month,  we're talking about cloth diaper covers. And we've got a little diaper cover giveaway to share with you, too!  Plus, we've got other news, new articles, and more!
"Autumn is a second spring when every leaf is a flower."

-- Albert Camus


September has marked the start of lots of new routines for us!  My son started Kindergarten this year, and that means Mommy and Daddy need to be more organized than ever before!  I hope you're settling in if you too have launched a new beginning this fall too!
Sponsor Love


This Month's Feature

Cloth Diaper Covers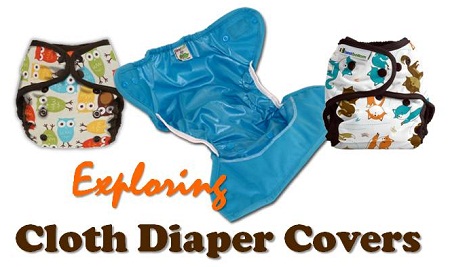 Diaper covers are always a hot topic!  This month, we revisited and updated our full article on Everything You Wanted to Know About Cloth Diaper Covers.
While some parents choose to start out with pocket diapers, equally popular are covers combined with prefolds, inserts or fitted diapers.

How Many Covers Do I Need?

By far the most common question we get from readers and Facebook fans is, "How many covers should I buy?"  The answer to that depends on a few things:
How often will you do laundry?
How old is your baby?
For newborns, most parents find that 6 to 8 covers are needed, since the runny messes that newborns are famous for often get onto the diaper covers, so they can't always be re-used before laundering.
For older infants, you will likely need 4 to 6 covers, and for toddlers, you may only need 2 to 3.
If you plan to use wool, which can be rinsed without needing to be washed as frequently, you can get away with a few less than this for each age.

Brands

There are a ton of awesome diaper companies that make covers, and even though we've tried a lot of them, we can't possibly feature them all in a single article.  We decided instead to focus on a wide variety of styles and fabric choices, highlighting some of (what we feel are!) the most reliable covers on the market.
For more information, including fabric choices, links to articles on how to care for wool, some of our favorite diaper covers, and lots more, be sure to read our full article on cloth diaper covers.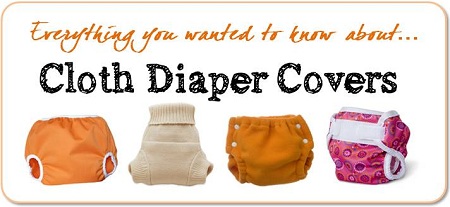 Did your favorite cover make the list?
Tell us your favorite cover brand (and then be sure to claim extra points for your comment in our fun diaper cover giveaway below!)
Want to Make Your Own?
And we've got a new diaper cover sewing tutorial out this month, too!  We show you how to make a cover just like the one shown up above, featuring fold-over elastic!
Featured Tutorial for a Cloth Diaper Cover with Fold Over Elastic

...and now for a giveaway!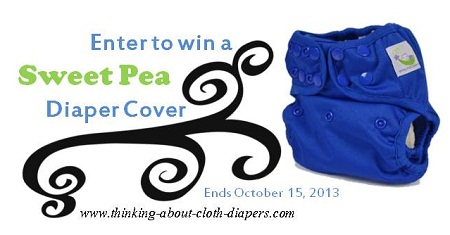 I hear it from readers all the time... cloth diaper covers are one of the best giveaway prizes!  And so in keeping with the theme of this month's newsletter, I'd like to offer up a Sweet Pea diaper cover in a little giveaway!

Open to Residents of Canada/US

This giveaway ends at 11:59 PM EST, October 15, 2013
We're grateful to our site sponsors that allow us to offer you more chances to win cloth diapers, gear, and other awesome prizes!  We've got 3 giveaways currently going on right on our site (in addition to the one included in this month's newsletter)!

Whether it's receipts, insurance policies, or even my son's artwork, I love that it's all being stored away in a safe and secure place without the clutter!  How do you stay organized?