Current Cloth Diaper Giveaways

Tula Baby Carrier Giveaway

For a busy mom, baby-wearing can be a huge blessing!  Calm your baby, and free up your hands with a beautiful carrier from Tula.  Enter to win a Tula baby carrier from Thinking About Cloth Diapers.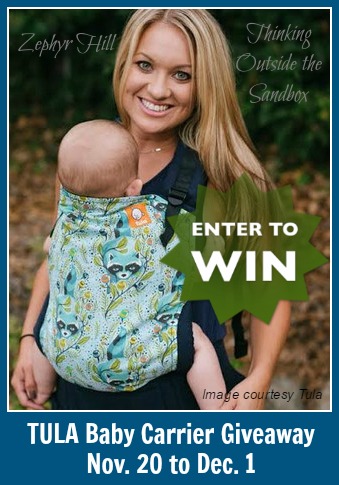 Tula standard carriers can be used with babies from 15-45 lbs, or with infants from 8+ lbs with the addition of a Tula infant insert.
I have carried both of my boys, and truly love the closeness of baby-wearing.  Plus, I don't know what I would do without my carriers when we're at the rink or the school!
Thanks in part to loans from friends, I have had the opportunity to try several different styles of baby carriers over the past few years.  I purchased a Tula a few months ago, and love it.  After a lot of debate (especially since we usually give away cloth diapers!) I've decided that since so many cloth diaper parents also love to baby-wear, I wanted to give you all an opportunity to win a Tula in our last big giveaway of 2014!
Since this giveaway is in no way associated with Tula, here's what you will win:
1 "standard size" Canvas Tula in your choice of fabric**
** Please note - you will be able to choose from "in-stock" fabrics at the end of the giveaway from a retailer of my choice (I like to support my affiliate partners).  Please also note:  Tula also makes a Toddler carrier for larger babies, and if you would like to pay the difference to upgrade to a Toddler Tula, let's make those arrangements at the end of the giveaway.
Open to Residents of  US and Canada

This giveaway ends at 11:59 PM EST, Nov 18, 2014