Babyville Boutique Cloth Diaper Fabrics Review & Giveaway

Have you ever thought about sewing your own cloth diapers? Babyville Boutique makes high quality PUL cloth diaper fabrics in delightful prints and colorful solids. 
They also offer a fun line of exclusive matching coordinates, including fold-over elastic, hook and loop tape, snaps, and embellishments including appliques and diaper tag, plus patterns, idea books and more!  Read on for more information and enter for your chance to win a set of diaper making fabrics, too!
I received a sampling of coordinating fabrics and notions from their gender-neutral Playful Pond line.  I was very impressed with the quality of their fabrics, and loved how everything was perfectly coordinated!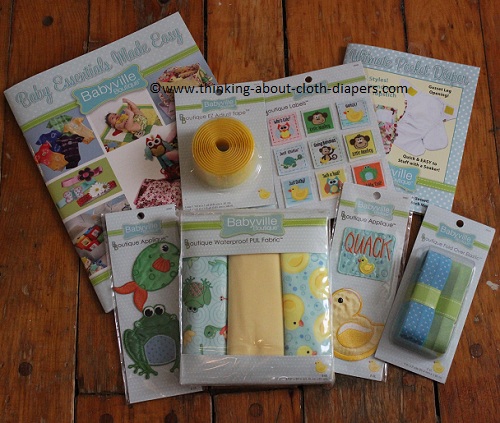 Professional Looking Hand-Sewn Diapers

High Quality Fabrics

Babyville Boutique makes high quality PUL cloth diaper fabrics.  At many retailers, you can purchase complete yards, but they also sell them in sets of 3 coordinating "diaper cuts" (right, below), which are 18x22" pieces that offer enough fabric to cut a single diaper without a lot of waste.
 I was actually able to cut 2 newborn diaper covers out of a single diaper cut!  The benefit of diaper cuts is you can try more fabric prints/solids for a lower price point than if you purchased full yards!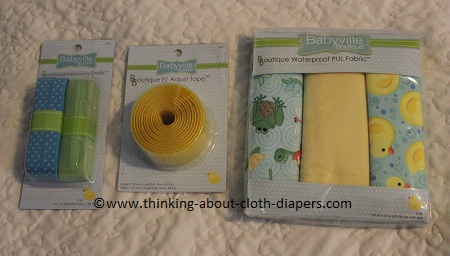 I've seen lots of PUL fabrics, and the samples I received from Babyville are soft and supple, with a strong laminate.  It's hard to show this by photo, but I encourage you to compare for yourself! 
Plus from monsters, owls, and dinosaurs, to cowboys, cupcakes, and butterflies, Babyville's line of cute PUL fabrics offer something for everyone - and every project you can dream of!
They also offer EZ Adjust Tape (hook and loop), fold over elastics, snaps, and other elements designed to coordinate with each fabric line.
The Finishing Touches

Babyville Boutique has gone well beyond beautiful fabrics in their quest to help you sew your own designer diapers and accessories! 
The photo below shows some of the woven tags and satin appliques they offer to coordinate with the Playful Pond line.  Every single line has their own matching labels and appliques!
I love these adorable touches!  Whether you use them to dress up your diapers, or to embellish other sewing projects, these labels and appliques lend a personal and professional finish to your hand-made creations!

The "Baby Essentials Made Easy" book has lots of cute ideas for gifts and baby accessories.  I love this cute idea for washcloth cupcakes, which features the labels on a quick and easy project, perfect for a baby shower gift!
Perfectly Coordinating

I was really excited by the diapers I was able to sew using the Babyville Boutique fabric line.  On the left is a newborn cover made using a popular free internet cover pattern, while the right is a pocket diaper made following the Babyville Boutique pattern. 
Both show how the fabrics work together with the other Babyville elements to create perfectly coordinating diapers!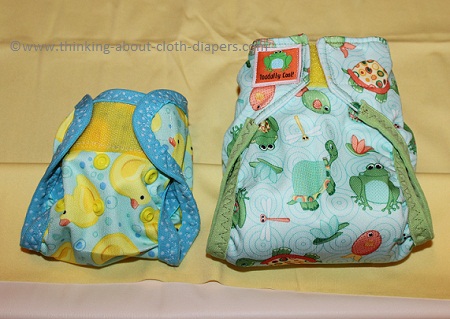 Check out our newborn cover tutorial to see more of the Babyville Boutique fabric and coordinates in action!  It's full of photos to show you how to sew a diaper cover with double gussets, using fold over elastic.
Inspiration and Support
Beyond fabrics, Babyville Boutique has done an excellent job of making cloth diaper sewing more accessible to the masses.  They offer pattern books and inspiration for tons of other projects, both in print and via the Project Section on their website. 
You can also subscribe to their blog to get their latest project ideas, plus product releases, delivered right to your inbox!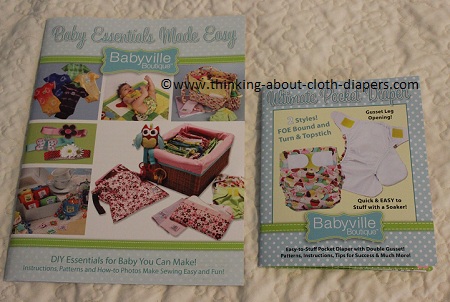 I loved the Baby Essentials book that they sent me.  it has tons of cute ideas, from basket liners to embellished prefolds, baby toys, and gift ideas too!
They also sent me a pattern book for their sized easy stuff pocket diaper, and it was incredibly detailed, with full-size patterns and photos, plus lots of easy-to-follow instructions.

Below is a photo of the pocket diaper I sewed using this pattern.  It is a relatively unique pocket, because it stuffs from the side, rather than the front or back end of the diaper. 
Once you get started with Babyville's fabrics, I'm sure you'll find plenty of ways to use their product line, not only for diaper sewing but for other crafts and home decorating projects as well!
Where to Buy

Babyville Boutique fabrics and coordinates are easy to find!  They available from many fabric retailers, plus  independent fabric stores.  Look for them in Joann's, Hancock Fabrics, and Fabricland, or shop for them Amazon.com.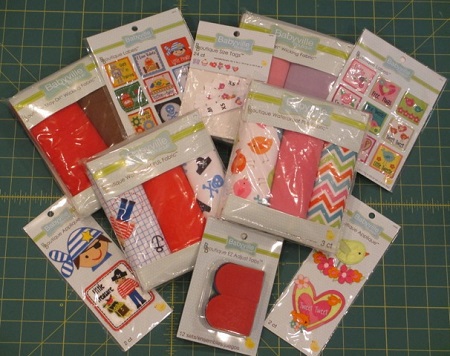 Sponsor Love


Disclosure: Babyville Boutique provided me with a sampler of cloth diaper fabrics and notions to facilitate this review.  The opinions expressed in this post are entirely my own, and your experience with the product may differ from mine. I only recommend products or services I use personally and believe will be good for my readers. This article contains affiliate links.  I am disclosing this in accordance with the Federal Trade Commission's 16 CFR, Part 255: "Guides Concerning the Use of Endorsements and Testimonials in Advertising." For more information, see our Disclaimer and Copyright.