Cloth Diaper Column - Using Cloth Wipes

Welcome to our second issue of Cloth Diaper Column for 2013! This month, we're taking about cloth wipes. Plus we've got other news, tutorials, and more!
Random Acts of Kindness

Did you know that February 17 is the International Random Acts of Kindness Day?  You may not have known in time for this year, but it's never too late to show some kindness to a neighbor, friend, or even a total stranger!
"If we could look into each others' hearts and understand the unique challenges each of us faces, I think we would treat each other much more gently, with more love, patience, tolerance and care."

-- Marvin J. Ashton


Sometimes you never know what's going on in another person's life, no matter how well you know them.  This is a quote I'm going to pin up on my bulletin board.  I want to be reminded regularly to cut people around me a little more slack, to be patient even when I'm in a hurry, and to smile and be kind to everyone around me!
Did you celebrate Random Acts of Kindness Day?  Let's not wait for an excuse!  Why not make that day today - and every day?
Sponsor Love


This Month's Feature

Using Cloth Wipes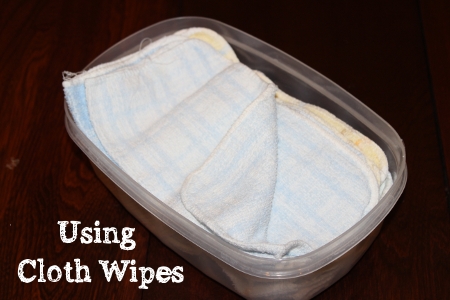 Are you already using cloth diapers and other reusable products?  What about cloth wipes?  While disposable wipes can be convenient, cloth wipes may be an easier switch than you realize!
Not only are they eco-friendly (chemical free, reusable, and less waste), they are also soft AND much more effective for cleaning your baby up.  They're gentle on your baby's bum (no alcohol or other harsh agents!), and you can save a lot of money, too!
For me, the biggest draw, though, was actually the convenience!  Yes, convenience - because using cloth wipes means you don't have to sort them out from the rest of your cloth diaper laundry!

What are Cloth Wipes?

Cloth wipes can be as easy as baby wash cloths or terry face cloths.  Many companies now sew reusable wipes that fit into a traditional disposable wipes box or a wipes warmer.
These commercially made cloth wipes are most commonly 8x8", and can be folded in half to fit perfectly in a storage box.  They can be made of either a single or a double layer of fabric, and may be textured (like a facecloth) or soft (like flannel). Some manufacturers also sew them 4x8".

How to Use Cloth Wipes

Cloth wipes are great for wiping your baby's bum after each diaper change.  They're also perfect for washing little hands and faces on the go, cleaning up runny noses, and as a paper towel replacement.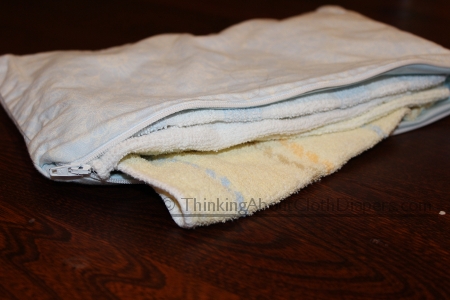 If you want to use cloth wipes with your cloth diapers, how many you need depends on how often you wash your diapers.  You'll need about 30 wipes if you wash your diapers every 2 days.  If you plan to use your wipes for other uses such as hands, or if you wash diapers less frequently, you'll need more.
If your change table is close to or located in the bathroom, you can simply wet your wipes as needed.  Another option is to store already wet wipes in a wipes warmer or plastic wipe box (the very same box you would get with disposable wipes!)  Prince Lionhart makes a wipes warmer just for cloth wipes. 
If you plan to store wet wipes, it's probably worth my mentioning that they will start to smell stale if you leave them more than a day.  It's best to wet down several in the morning (with either water or a wipes solution) and then put any unused ones into the wash with your diapers at the end of the day.
Wipes Solutions

The chemicals found in disposable baby wipes are strong.  If your baby has a diaper rash, disposable wipes can actually irritate the skin further.  Be warned, you don't want to use a wipe with alcohol in it on a baby with diaper rash!
For cloth wipes, wipes solutions are not a necessity, but they can smell nice and leave baby's bum feeling soft!  That said, for newborns, and for all babies with sensitive skin, plain water is the best wipe solution! 

If you would like to add something to your wipes, here are a couple of good blog posts for wipes solutions:
Traveling With Cloth Wipes

There are 2 easy ways to travel with cloth wipes:
Stick cloth wipes in a small wet bag, and then add a small amount of water before closing.  By the time you need them, the water will have wicked across the wipes, making them damp, but not so wet that your wet bag will leak OR
Keep a small spray bottle of wipe solution in your diaper bag.  If you're concerned about leaking, store it in a Ziploc bag, then just wet as needed
Where Can I Buy Cloth Wipes?

Lots of companies make cloth wipes, including:
Make Your Own Cloth Wipes

Making your own cloth wipes is a quick and easy project.  Follow our photo tutorial for instructions on how to make your own cloth wipes with a sewing machine or serger.  We also recommend fabric choices for cloth wipes.
Have you heard?

This Month on Our Website
If you like to sew, you might enjoy the new tutorials I added this month:
Plus, an article on Cloth Diaper Rentals & Trial Programs, perfect for those just starting out or anyone who might want to give cloth diapers a test drive before making a big investment!
News from the Cloth Diaper World
Just the thing for Father's Day
Is there a football fan in your house?  Sustainablebabyish has launched a whole line of college and pro football prints and embroidered diapers.  Perfect for a photo opp - dress your little one up in Daddy's favorite colors.  Plan ahead before stock runs out!  You can buy yours from Dearest Diapers.
NEW!

Deal of the Week!

Check out the pricing on the OsoCosy Diaper Sprayer, which is just $34.95 at ClothDiaper.com






Keeping Up

As a working parent, I know how busy life can get!
I've always got my eyes open for time-saving tips to share with you.
If you have children, you probably have an icepack in the freezer for little bumps and bruises.  Want a mess-free icepack?  Well, here's a neat idea from Pinterest!  Keep a frozen, saturated sponge inside a Ziploc bag for an ice pack that won't leak all over as it melts!  For more interesting time-saving ideas, check out this interesting link we Pinned on Pinterest here.

If you have a question, or an idea you think we should share with other busy moms in an upcoming Cloth Diaper Column, I'd love to hear from you. Feel free to drop me a line!
That's all for this month! Thanks for hanging out with me!

www.thinking-about-cloth-diapers.com
www.facebook.com/thinkingaboutclothdiapers
www.twitter.com/ThinkClothDiap
Go to top of Cloth Diaper Column: Cloth Wipes

Return to Cloth Diaper Column Back Issues & Sign-up.

At Thinking About Cloth Diapers, we offer reliable, up-to-date cloth diaper research to save you time so you can get on with the other things you want to do.

Return to Thinking About Cloth Diapers homepage.
Disclosure:  The opinions expressed in this post are entirely my own, and your experience with the product may differ from mine. I only recommend products or services I use personally and believe will be good for my readers. This article contains some affiliate links.  I am disclosing this in accordance with the Federal Trade Commission's 16 CFR, Part 255: "Guides Concerning the Use of Endorsements and Testimonials in Advertising." For more information, see our Disclaimer and Copyright.