Cloth Diaper Column - Save Money With Cloth Diapers
Issue #11, March 2013
Welcome to our our third issue of Cloth Diaper Column for 2013! This month, we're taking about saving money with cloth diapers - and even more specifically, how you can cloth diaper for under $100!  Plus we've got other news, savings, and more!
Signs of Spring

Spring has sprung!  Well, it's coming a little late to us in most areas of North America this year, and here in Toronto, where I live, is no different!  I'm looking forward to the day that I can sun out some of our diapers and enjoy some time in my back yard again!

"Thank God for dirty dishes,
They have a tale to tell.
For while others may go hungry
We're eating very well."

-- Author Unknown


While the weather is bad, I'm doing a little spring cleaning around the website, dusting off some of the older articles, and brightening up content with new photos and content.  Have you noticed any of the changes?  What do you think?  If you see something you'd like me to change - please let me know!  I truly appreciate all of the feedback I receive from you, my readers, as it shows that these articles don't just disappear into space after I publish them, and that really boosts my spirits!


Sponsor Love


This Month's Feature

Budget Cloth Diapers

While for some, cloth diapers are a cute way to make a fashion statement, they are a wonderful way to save money too!  If you can curb your fluffy addiction tendancies, you really can build a reliable, no-frills diaper stash for under $100!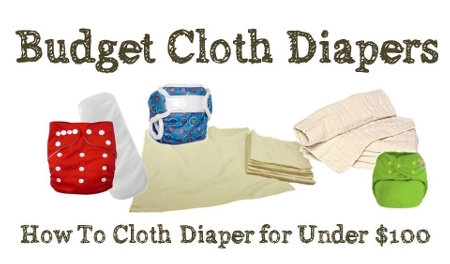 Click here to read it now!

If you live on a tight budget (or you know someone who does) this article is a must read!  We've highlighted how you can build a stash of diapers that can last through 2 days, spending $100 or less.  Get the full article here.

Prefolds and covers, pockets, or even old-fashioned flats - there are truly affordable options for everyone.  Sewing or buying used can save you even more.  $100 is the equivalent of 2 to 4 cases of diapers, which will last only a month - but with cloth, it can easily last you through at least one child!
Know someone who could benefit from this article? We would be honored if you would share it with them. Simply 
click on this link
to send a link to them by email.
Plus, if you are diapering on a budget, please feel free to email me and let me know how you have saved money!
Have you heard?

Hot New Articles This Month


Plus, this month we had by far our most popular post EVER on Facebook when we posted an image that said, "You can't buy happiness..."  If you missed it, you can check out this photo on our website here.

News from the Cloth Diaper World
Are you going to be attending the Great Cloth Diaper Change this year?  It's happening on April 20, 2013.  Visit their website to find and register to attend an event near you!
Gro-Via has launched a new line of bamboo prefolds


made with a blend of bamboo and organic cotton.  These prefolds are soft and trim, and come in 4 sizes.  Starting at $8

for a pack of 3 on the Grovia website.

Sponsors wanted!  We're planning to run our popular Made-in-Canada giveaway again this July, and are now looking for interested sponsors.  If you or someone you know might benefit from the exposure this event will provide, please don't hesitate to reach out to me!




NEW!

Deal of the Week!

This week only, unbleached birdseye cotton fitted diapers are on sale at OsoCosy for $4.49 each at ClothDiaper.com  Wow, that's 40% off retail for these reliable, no-frills fitteds! 





Like this? You can subscribe to our weekly cloth diaper sales round-up to get deals just like this one delivered to your in-box every week (just click on the weekly round-up link above and then fill out the sign-up form at bottom of the article).



Keeping Up

As a working parent, I know how busy life can get!
I'd love to share a family favorite recipe with you this month - cheese biscuits.  I make these when I want a quick and easy home-made side dish, and they're perfect for company.  They don't require tedious work with a pastry cutter since they replace fatty butter with heart-healthy oil, and you can prepare them in 5 minutes while everything else is cooking.  Baking time - 15 min at 400F.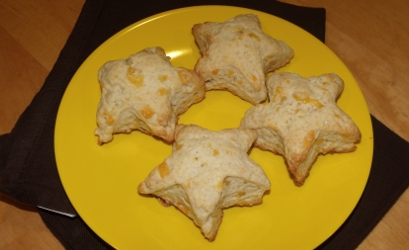 Recipe for Cheese Biscuits
2 c. flour
4 tsp. baking powder
2 Tbsp. sugar
3/4 tsp. salt
1 c. grated cheddar cheese (or other)
1/3 c. oil
3/4 c. milk
Mix dry ingredients into bowl, and then add grated cheese.  Stir.  Add oil and milk, and stir into soft ball.  Knead onto floured surface 8-10 times.  Roll out to 3/4" thickness and cut with biscuit cutter.  We love to use our star cookie cutter!  Place on ungreased cookie sheet and bake at 400F for 15 minutes until nicely browned.

If you have a question, or an idea you think we should share with other busy moms in an upcoming Cloth Diaper Column, I'd love to hear from you. Feel free to drop me a line!
That's all for this month! Thanks for hanging out with me!

www.thinking-about-cloth-diapers.com
www.facebook.com/thinkingaboutclothdiapers
www.twitter.com/ThinkClothDiap
Go to top of Cloth Diaper Column: Save Money With Cloth Diapers

Return to Cloth Diaper Column Back Issues & Sign-up.

At Thinking About Cloth Diapers, we offer reliable, up-to-date cloth diaper research to save you time so you can get on with the other things you want to do.

Return to Thinking About Cloth Diapers homepage.
Disclosure: This article contains affiliate links.  I am disclosing this in accordance with the Federal Trade Commission's 16 CFR, Part 255: "Guides Concerning the Use of Endorsements and Testimonials in Advertising." For more information, see our Disclaimer and Copyright.