2013 Made in Canada Giveaway

June 18 to July 2, 2013

Welcome to the Made in Canada Event, hosted by Canadian cloth diaper bloggers Thinking About Cloth Diapers with co-hosts Cloth Diaper Trader, Diaper Deals and Cloth Diaper Addicts. This event runs from June 18th to July 2nd, with daily entries and a special bonus for Canada Day (July 1st)!
Oh, Canada!
This event will showcase the wonderful works of more than a dozen cloth diaper makers plus other family-owned Canadian businesses from right across Canada. Discover brand new brands and revisit old favorites as you scroll through our list of wonderful sponsors.
With over $650 in prizes, we will be offering 5 wonderful truly Canadian prize packages, each with a
value over $130
, as shown below. Each package contains hard-to-get diapers from popular work at home diaper makers, including customs, hybrid fitteds, and more! Lots of these brands seldom participate in giveaways, so you definitely don't want to miss this rare chance to win one of your very own!
Prize 1
border="0" alt="Made in Canada Prize 1 photo"/>
Bummis
was founded in 1988 and is still operating out of Montreal, Quebec. Bummis is an iconic Canadian cloth diaper company. They continue to launch innovative new products including their newest, the Sun Line and an updated cloth trainer, and they offer exceptional customer service. Their products are proudly sold by retailers world-wide. Bummis is offering a prize of a complete Sun Line to one lucky winner - a matching UV T-shirt, Bummis Swimmi, and sun hat in winner's choice of size. Retail value $54.00.
Little Bottoms
is operated by work at home mom Leanne Mercredi, who makes cloth diapers and children's clothing from her home near Grand Prairie, Alberta! She makes pockets, AIOs, AI2s, fitteds, hybrids, diaper covers, and beautiful summer dresses for little girls too! She has products currently in stock at her Etsy store. Little Bottoms' prize is a one-size cover with insert.
Butterfly Kisses
is a brand new home-based business based in Saskatoon, Saskatchewan. Work at home mom Jennie Vessey sews and creates items for moms and babies, including AIO diapers, diaper covers, swim diapers, wet bags, slings, nursing covers, tie chairs, shopping cart covers, and more! She is offering one all-in-one diaper in winner's choice of color and size (NB, S, M, or L), with a retail value of $25. You can view more of her products on her
Facebook page
.
Green Bumkin
is based out of Kemptville, Ontario. Owner and designer Amy Lanctot sews all-in-ones, all-in-twos, and the most amazing one-of-a-kind diapers featuring her intricate appliques. Recent works of art have featured the Ninja Turtles, Carebears, and the Lorax. Her diapers sell out of her Hyena Cart store within seconds of stocking, so we're very lucky to have a custom slot (you choose the design!) for one lucky winner! Retail value $35.
Prize 2
border="0" alt="Made in Canada Prize 2 photo"/>
Catherine Minifie is the founder and designer behind
FluffEh Cloth Diapers
, based in Mississauga, Ontario. She makes pocket and all-in-one diapers, plush squishy organic bamboo fitteds and organic wool interlock soakers too! She can also work with you to create your dream custom, too! Diapers in stock on fluffeh.ca FluffEh is offering a lucky winner a one size all-in-one diaper in the Pirates print shown! Retail value $28.
Double Maman
is a Québec-based company, based in Joliette, and owned by Chrystel Dorais-Roy. This talented mama sells cloth diapers and accessories from her website Double Maman, with items always in stock. She is currently offering limited-edition prints to help a family friend who's son has cancer. Double Maman is offering a pocket diaper with a retail value of $28.
Someday Sarah
- Based in Toronto, Sarah knits and sews handcrafted and recycled children's clothing, including wool diaper soakers and longies. Her eco-friendly products are very affordable, with upcycled wool soakers starting at $16, and longies from $21. For our Made in Canada Event, one lucky winner will receive a recycled wool soaker from Someday Sarah. Measurements are front rise 17", Waist 15-21", thigh 8-12". Retail value is $16.
Hunny Bunny Baby Wear
: Cloth diapers are a creative outlet for mom Joanna Usner, who sews pocket and fitteds, and hybrid fitted diapers from her London, Ontario home. Her beautiful creations can be viewed on her Facebook. She's slowing down her business for the summer, but if you'd like to purchase one, you can add your name to her Customs List on her
Facebook page
. Joanna is offering a beautiful fitted and a diaper cover with a combined retail value of $39.
The Cloth Canoe
is an indie store offering organic cloth diapers and designer accessories for the hip mama and baby. Owner and creator Genevieve is based in Moncton, New Brunswick, and sells cloth diapers and reusable cloth pads for mamas, plus cloth wipes, and wet bags through her Etsy store. For our Made in Canada Celebration, the Cloth Canoe is offering a size small (7 to 15 lbs) luxury organic bamboo velour daytime fitted. It features a gorgeous hand-dyed designer organic bamboo velour outer in "Blossom", and an inner of natural silky soft bamboo velour with a 2 part snap-in contour soaker. The core also features a hidden contour layer, meaning a total of 12 layers of bamboo! Retail value $35.
Prize 3
border="0" alt="Made in Canada Prize 3"/>
Snug Bug Diapers
: Every diaper that Erin makes for your little bug is made with the same care, love and attention to detail as if she were making it for her own. She makes hybrid fitteds, overnight, and newborn cloth diapers from her home studio in Oakville, Ontario. You can check out her beautiful hybrid fitteds on her Hyena Cart store. Next stocking is June 28th. One lucky winner will receive a custom one-size hybrid fitted, and the winner will get to choose the print. Diaper shown is for illustration only. Retail value $32.
Jelly Bear Boutique
features hand-made hybrid fitted cloth diapers & children's clothing, made in Brampton, Ontario by mom Ellen Dirksen. Stocking on Hyena Cart every second Thursday at 7 pm EST. Next stocking is June 20th. The prize from Jelly Bear Boutique is a one-size hybrid fitted with a value of $30, in the print pictured.
Owned by Brian and Chrystal Cline,
Nature Bumz
is a Canadian family-run cloth diaper retail based in Niagara Falls, Ontario. They carry a large selection of Canadian and US-made cloth diapers, including Applecheeks, Bummis, and Kissaluvs, plus popular brands like Rumparooz and FuzziBunz. They offer free shipping on all Canadian orders over $75. They are offering 2 lucky winners a $25 Gift Card for any purchase from their on-line store!
Harp Diapers
are made by single work at home mom, Deborah Plett, who specializes in vintage cloth diapers and accessories. If you're looking for a custom diaper, or another sewing project (even dog clothes!), Deborah's up for the challenge! Her business is currently based out of Vancouver, British Columbia, and her unique diapers, which often feature vintage cartoon prints, stock on Hyena Cart. She will be having a special Canada Day stocking on June 18. For the Made in Canada event, Harp Diapers is offering a Canada Day print AI2 with insert, retail value $30.
Judy Denham, the grandmother behind
Not Your Granny's Knitting
knits custom 100% wool longies, shorties, and soakers, in addition to sweaters, hats, and baby afghans from her home in Maple Ridge, British Columbia. She has worked with moms and other diaper makers to match her products to one-of-a-kind prints, and loves to work out custom designs with your imagination as the limit! You can view her beautiful work on her
Facebook page
. If you win, you will get to work with Judy to design a custom hand-knit wool soaker, valued at $35!
Prize 4
border="0" alt="Made in Canada Prize 4 photo"/>
AppleCheeks
are a innovative washable diapering system. Their sized diaper covers feature a unique envelope design, similar to a pocket diaper, but with no need to unstuff. The absorbent inserts come right out in the wash! AppleCheeks has been featured on CBC's Dragon Den, and is proudly manufactured in Montreal, Quebec. Applecheeks is offering a Little Bundle envelope cover and insert in winner's choice of size, plus a wet bag, valued at $40.
Melissa is a mom of 5 and owner of
Bottoms Up Baby Creations
, based in Castlegar, British Columbia. Her hand-made creations include pocket and fitted cloth diapers, bonnets, and dresses, upcycled wool diaper covers, plus body and lip balms, and more! Her pocket diapers are sold through her a
Hyena Cart congo
. For the Made in Canada Event, Melissa is offering a one-size (8-35 lbs) pocket diaper with PUL outer in the print shown, with a microfleece inner, and snap closure and rise adjustment. It also has a detachable ribbon butterfly embellishment. Value $18.50.
Urban Bums Boutique
offers an eco-friendly line of fitted and hybrid fitted cloth diapers designed with trendy, modern prints, designed with your urban baby in mind! Based out of Waterloo, Ontario, Chrissy sews all of her diapers using sustainable resources and organic materials where possible. Her diapers are made with fun and playful prints, and sophisticated designs. Next stocking June 24 on Hyena Cart. Urban Bums is offering a one-size hybrid fitted in the hard-to-find "Northern Lights" print. This is an incredibly rare and beautiful fabric which is guaranteed to please! Print position will not be exactly as shown in the photo. Retail value $45.
Flip Size
is a children's clothing retailer that offers excellent condition new and used clothing for 50-90% off. They give you the confidence that what you see is what you get and make it quick and easy to order name brand clothes for your little ones. They also accept your gently used children's clothes in exchange for gift cards, clothes or PayPal cash! They have offered a $30 Gift Card to a lucky winner. (Please note, in the case of a US winner prize will be $30 gift card to Bundles & Buzz instead).
Prize 5
border="0" alt="Made in Canada Prize 5 photo"/>
Megan is the work at home mom and designer behind
Rainshine Designs
, based in Pender Harbour, British Columbia. She used her background in fashion design and textile arts to develop her popular cloth diaper designs, and she offers pockets, all-in-twos and all-in-ones, fitted diapers, training pants, and other accessories. Lots of products are in stock now at
www.rainshinedesigns.com
. One lucky winner will win a one-size AIO diaper with soaker in a truly Canadian maple leaf print!
Butt Ons Cloth Diapers
is owned and operated by two sisters, who want to share their love of fun and unique cloth diapers! Inspired by their chunky-thighed heavy wetters, every Butt-On uses hidden layers of heavy poly fleece and/or bamboo fleece to contain anything thrown at it, while still remaining breathable and comfortable. Their motto? Saving the world, one butt at a time. Their next stocking on Hyena Cart is June 23. Butt Ons Cloth Diapers is giving away a One-Size Right-On-Night-On Hybrid Fitted diaper! This diaper has a gorgeous, Harry Potter inspired cotton woven outer, two hidden layers of poly fleece, and the inside is a gorgeous yellow anti-pill poly fleece, for all that night-time wetness. The diaper comes with a foldable insert made from heavy organic bamboo fleece and features a fold-down rise. Retail value $30.
Whoever said cloth diapering was a dowdy affair? Not Stacie Johnson, the mama behind
Kabum Cloth Diapers
, which is based in Kimberley, British Columbia! Kabum proudly sews one-size pockets and all-in-two diapers which can be converted to swimmers. Currently in stock on Etsy. Kabum is offering one lucky winner a one-size diaper cover that can be used as a pocket, AI2 or a swim diaper and a natural bamboo trifold insert/liner. Winner can choose print. Value is roughly $30.
My Little Lion Designs
is owned by work at home mom Christina Kubik of East Gwillimbury, Ontario. She offers cute and durable waterproof items you will love, including wet bags, pail liners, diaper covers, and bibs. She also welcomes custom orders, so please feel free to contact her with special requests! She has products currently in stock in her Etsy Shop. One lucky winner will receive a $20 store credit to My Little Lion Designs Etsy Shop.
This prize also includes a $25 gift card from
Nature Bumz Co
.
Early Bird Prize
border="0" alt=" photo canada-day-draw-early-bird_zpsfa29b178.jpg"/>
Omaiki
was founded in 1997 and operates in Blainville, Quebec. They sell cloth diapers, training pants, breast feeding pads, swim diapers, and more! They have offered a prize pack valued at $56, which includes an all-in-one diaper in the winner's choice of print, plus 3 reusable feminine protection pads. Get your entries in early - this early bird draw will happen on June 30!
---
We would like to thank all of the generous Canadian businesses who have supported us with the amazing prizes above! Now that you've seen all of the wonderful prizes, don't forget to enter below! And be sure to support all of our
Made in Canada
event sponsors!
On behalf of all of the sponsors, we would also like to thank the following bloggers for helping us to get the word out about the Made in canada Event.
Please use the Rafflecopter form below, and good luck!
Disclosure:
I received no compensation for this publication. Thinking About Cloth Diapers is not responsible for sponsor prize shipment.
Please Help Us Spread the Word!

If you have a blog or website, please add our button to your site to help us spread the word!  Just grab the code below!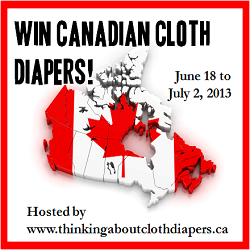 Sponsor Love