Link to Us

Do you have a blog or website and want to share our website with your readers?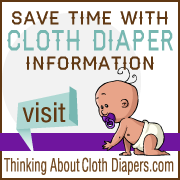 To make it easy, we've created a button that directs your readers to our site. Simply copy and paste the HTML code below, and the button shown above will appear on your finished web page.
Thank-you for your support!
Link Exchanges

We are always looking for quality link exchanges that add value to our readers. If you have a particular article or blog post that you feel would be beneficial for our readers, please let me know.  To can get in touch with us, please use the form on our Contact Us page.

If you would like us to link back to you, please set up a link to us first. In your request, please provide the web address of the page where you have already created the link.

Please note that Thinking-About-Cloth-Diapers.com does not have a links page. I will review your website or blog to find the most appropriate fit for your link. I will aim to add your link within 2 weeks of you contacting me, usually sooner.

At Thinking-About-Cloth-Diapers.com, we reserve the right to decline any link exchange request, based on the content and relevance of your site to our readers.



Return to top of Link to Us


Return to About Us

At Thinking About Cloth Diapers, we offer reliable, up-to-date cloth diaper research to save you time so you can get on with the other things you want to do.

Return to Thinking About Cloth Diapers homepage.
Sponsor Love