What is a Diaper Party?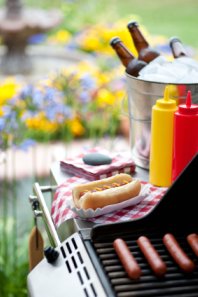 Simply put, a diaper party is a straightforward baby shower just for the guys. Diaper parties usually involve 3 things:
Beer
BBQ
Instead of a shower gift, guys bring diapers to help out the expecting couple
Some couples are now having joint baby showers, but many are still just for the girls. While the girls plan elaborate baby showers with decorations, games, and cute gifts, guys don't need to be left out!

Why not plan a low-key "guys only" party to celebrate baby's arrival? A diaper party is the perfect excuse to get together with the guys to drink some beer and maybe even watch a game on TV.

Diaper parties are often planned by the new dad's family or friends. They sometimes take place on the same day as the baby shower, and may be in a different location (another house, or the back yard, basement or garage).

Note: Since it can be hard to return diapers, it can be helpful to specify brand or size preferences (tip: ask for sizes 1-5 since you don't want to get stuck with a ton of newborn diapers that won't fit for long). 

Amazon.com is a great place to buy diapers.  They carry all major brands and sizes. Plus, with Amazon's Baby Registry, you can add items from Earth's biggest selection, get free 90-day returns on most items, and manage your registry on any device whenever—and wherever—you want.
Cloth Diapers: Are you Kidding Me?
While cloth diaper usage is growing, it's estimated that disposable diapers are still used on 95% of babies. While you may now be fully convinced about your decision to use cloth diapers, keep in mind that your friends may have had no experience with cloth diapers, and may even be horrified by your decision.
Cloth Diapers and Diaper Parties
I have a sneaky suspicion that for most diaper parties, guys just swing by the closest Wal-Mart or drug store on the way to the party and grab the first package of Huggies (or Pampers) they see.

Since guys don't like to make plans in advance, the news that you are planning a cloth diaper diaper party might result in panic, since it will likely be impossible to pick up cloth diapers on the way to the party. Cloth diaper parties may require a bit more communication, but if you plan things right, they shouldn't be any harder for your friends to attend!
Options for a Cloth Diaper Friendly Diaper Party
In order from easiest to most frustrating for your guy friends, here are four ideas on how you can make a diaper party work when you plan to use cloth diapers rather than disposables:


The easiest route is just to set up a collection jar for money toward cloth diapers. Men can add some money to the diaper savings bank when they arrive at the party.
If you plan to use disposables part time (for example, when you travel or when you need a babysitter), use the diaper party to get the disposables you'll need. Guys can pick up disposables on the way to the party, just like they normally would.
Have the organizer send a note with the invite asking them to sign up to buy one or more cloth diapers. The organizer can then order the diapers and coordinate and collect the money either before or at the party.
Choose a cloth diaper retailer with a registry. If you're emailing out your invites, include the link to the cloth diaper retailer, and have your friends "buy" 1 or more diapers or accessories off your registry - these would probably be best shipped to you, rather than to your friends. If your diaper retailer will allow for multiple orders to be combined to minimize shipping (or even qualify for free shipping!) even better for you! This one definitely requires more planning and communication!
How to Tell Your Friends You're Using Cloth Diapers

When you send out your email about the party, keep it simple but be sure to include all the important details. Here's a sample:
We're having a baby. My wife is having a baby shower so the women can buy all of the cute stuff. She is serving hors d'oeuvres and punch. I'm having a diaper party for the guys for all of the practical stuff (aka, diapers). I'm serving BBQ and beers. This might be my last party for awhile, so I hope you can attend!

See you at (time), (date), (location). I'll provide the (meat and munchies).

We've decided to use cloth diapers. This decision means that we're sending less trash to landfills. And cloth diapers really aren't that hard to use, plus we'll save money too. Yes, we'll have to do another load of laundry every few days. But we're going to get this cool diaper sprayer so we don't have to handle the poop. (Note, even if you don't get a diaper sprayer, you still won't have to handle poop, or you can try diaper liners.)

We're planning to use (brand) cloth diapers. Each diaper costs (insert diaper price) and we'll only need (18-24) of them in total. The plus is, next time we have a baby we won't need to buy any new diapers! (not that we're thinking that far in advance right now).

To make things really easy for you, we're going to set up a collection jar. Or, if you want to actually buy us a diaper, you can visit (retailer's website) and pick (product link). If you prefer, you can ship them to our house (insert address).

Thanks.

(Dad)




Planning a baby shower? Check our list of ideas for gifts for baby showers.



Sponsor Love