Jules Bum Genius Cloth Diaper Giveaway (Canada Only)

You can enter to win a Jules limited edition print Bum Genius cloth diaper, which fits from birth to potty training!
Welcome to the bumGenius 4.0 Cloth Diaper Giveaway!

Since they were released as a limited edition print, bumGenius' "Jules" diapers have been a hot commodity.  They sold out quickly, and today, new ones are currently trading for 3 or more times their original retail prices.  If you're like me, you'd love to add a Jules to your diaper stash but probably can't justify the cash to do it!
And so, when Cozy Bums Diapers approached us to help them promote their giveaway for a brand new Jules bumGenius 4.0 we were immediately on board - we knew you would love it!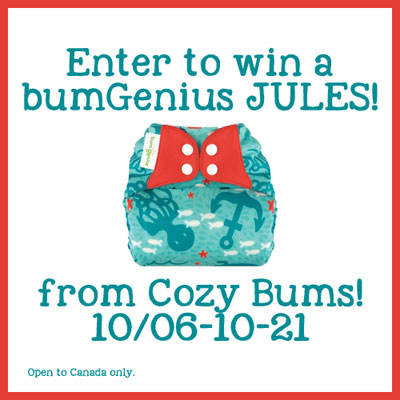 About Cozy Bums: Cozy Bums Diapers is your Canadian source for modern cloth diapers.  This cloth diaper shop has been your one stop shop for all of your cloth diapering needs since 2007.  Now Cozy Bums is happy to offer this diaper from their cloth diaper vault!  If you're in Canada, you can enter to win!
bumGenius One-Size diapers fit most babies from 7 to 35+ lbs! While the diapers are super absorbent, the inside lining of the diaper is perfect for keeping your little one's skin dry. In addition to their snap closure option, they also offer the hook & loop closure which makes it incredibly easy for anyone not familiar with cloth diapers to change!

image credit:  Cotton Babies

The OS diapers come with a newborn insert and one-size insert. The newborn insert is great for the first few months for the perfect absorbancy without any extra bulk. The larger insert is also customizable for a great fit. The larger one size insert can be stuffed snapped over itself for higher absorbancy in a certain area and a shorter insert for a great fit.  Sam shares a tip:  "we also found the newborn insert helpful as a night time booster for a heavy wetter."
bumGenius! cloth diapers have an overlap at the back of the diaper opening to cover the pocket area. Not only does this make a clean look to the back of the diaper, but it also eliminates any redness from the elastic along the back of the diaper.
With 3 rows of rise snaps and a 2 long rows of waistband snaps, it allows for 3 different fits in the rise and numerous options in the waist. Fully snapped down in the rise, the diapers will fit most babies 8-16 lbs, with only one row of rise snaps exposed it fits most babies from 17-22 lbs and lastly fully unsnapped in the rise will fit most babies 23-35 lbs. The large OS inserts also is adjustable with 3 snaps. Small, Medium and Large sizes can be achieved simply by folding and snapping the insert to itself.
image credit:  Cotton Babies
Enter below to win a bumGenius 4.0 pocket diaper in the hard-to-find, highly sought-after Jules print.
Open to Residents of Canada Only

This giveaway ends at 11:59 PM EST, Oct 21, 2014