Cloth Diaper Column - Affordable Cloth Diapers
Issue #04, July 2012
Every month, we deliver new information about cloth diapers straight to your inbox! Thanks so much for signing up!
Summer Skies

"Thank you stars and fireflies, for the magic of summer skies."

--Stan and Jan Berenstein


Growing up in Saskatchewan, we didn't have air conditioning. So there was nothing more welcome during the heat of summer than evenings that offered a crisp, cool breeze and some respite from the hot days. I always went to summer camp in July, and my favorite nights were those when we stayed up to watch for shooting stars.

You may not realize it, but some of the best days of the year for meteor showers (and shooting stars) are July 28 to 30. If you're out of doors those nights, don't forget to look up to the sky. You might get lucky enough to watch as your little ones experience their first shooting stars!
This Month's Feature

No matter how much money you'll save in the long run, building a cloth diaper stash can be a daunting task when you are already living on a tight budget.
We first posted a new article on our website just after our June newsletter went out. And I'll be very honest - it's been hard to keep quiet about it for almost a whole month! If you've been browsing our website recently, you may have found it, but for those of you who haven't, I'm very excited to share it with you now!
Pocket Diapers Under $13

We strive to bring you helpful articles, and we think this one's unique. For the first time ever, we're publishing a head-to-head comparison of 6 affordable, quality pocket diaper brands. These diapers may all come with a cheap price tag, but I can assure you that we've tested them for sizing, materials, and other features, too! Alva, Kawaii, and some new (but not lesser!) brands made the cut. Don't miss the full article on our website now.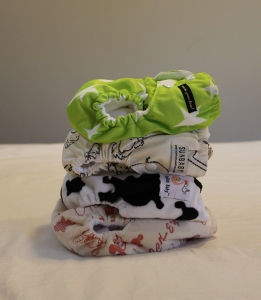 Psst... a set of pocket diapers for under $300?

If you know someone who's been on the fence about cloth diapers for awhile, this article might be the little nudge they need to take a chance. Please do us (and their babies!) a favor and pass this newsletter along.

It's easy to share... just
click on this link
.
Have You Heard?

News from the Cloth Diaper World

Don't miss this exciting chance to win!
Fluffy Wishes and Twitter Party - July 12 to 24 - we're sponsoring the shipping on this great charity event. Fluffy Wishes is a cloth diaper lending service, and sponsors have donated more than 20 great prizes for this huge draw! There's a ton of chances to win, and only a couple more days, so click here to enter before it's all over!
We're planning our first big event to celebrate the first birthday of our website in October. If you know of a cloth diaper charity, retailer, business, or blogger who would like to sponsor or otherwise be involved in our Choose Your Charity Event, we'd love to send them more information!
And on our Facebook page: we had a ton of great comments on blowouts (or really, the lack of them!) and cloth diapers when we posted a cute meme from AppleCheeks. Find us on Facebook to join this and other great conversations!
Special Savings for You

The Sew is Your Baby Slim Cut was one of our favorite cheap cloth diapers. And Michelle has offered a special discount just for Cloth Diaper Column readers! From now until July 31, use code take10 to save 10% on your entire Sew Is Your Baby order! Plus, all US orders ship free, while shipping to Canada starts at just $2! Visit Michelle's brand new website today!
And our discount at Dearest Diapers is still available! Until July 31, use code THINKCLOTH at the checkout to receive 10% off your order of $20 or more* at Dearest Diapers! Plus, Dearest Diapers offers free shipping on every order shipped in the USA! This retailer carries more than 30 of the most popular cloth diaper brands!
*One offer per customer, some exclusions apply due to manufacturer sales restrictions.
Keeping Up

As a working parent, I know how busy life can get!

It seems like summer has just started, so it's hard to believe that it's time to start thinking about going back to school! If you've got little ones starting a new daycare or school in the fall, you're probably already starting to stock up on school clothing and supplies. I always find it easiest to add a label as you're pulling the new gear out of the shopping bag, before you put it away.
We used to use a permanent marker to label sippy cups and other gear going to daycare, but the marker was constantly washing off. So, we switched to stick-on labels - they can be such a time saver in the long run!
Before you unpack your shopping bags, make sure you're ready! Grab a marker, a label maker, or some of the cute, pre-printed labels. If you plan to order labels (such as the ones from Mabel's Labels) be sure to allow enough time so you can make a permanent mark on your kids' belongings.
If you have a question, or an idea you think we should share with other busy moms in an upcoming Cloth Diaper Column, I'd love to hear from you. Feel free to drop me a line!
That's all until next month! Thanks for hanging out with me!

www.thinking-about-cloth-diapers.com
PS - Have you taken advantage of any of the summer diaper sales yet? Now's a great time to stock up because lots of manufacturers are offering a buy 4 or 5 and get 1 free event! Every week we update our Cloth Diaper Sales Round-Upso you can find all of the deals at our favorite retailers.
Sponsor Love