Buy Local: Cloth Diapers Made in Canada and the USA
Canadian and US cloth diaper manufacturers are proud to give back to their local communities, and as much as you can, I encourage you to support these businesses and do your own part to contribute to your own community. As you choose your cloth diapers, please consider the following list of Canadian and US cloth diaper manufacturers.
Made in Canada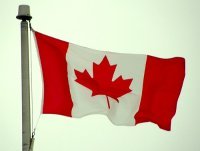 Flickr photo by scazon
AMP Diapers
Applecheeks
Aristocrats
Baby Kangas
Berry Blush
Bottom's Up Baby Creations

BubuBebe
Bummis
Butterfly Kisses
Butt Ons' Cloth Diapers

The Cloth Canoe

Double Maman

Eezi-Fold
FluffEh

Grasshopper Diapers
Green Bumkin
Harp Diapers

Hippeez
Hunny Bunny Baby Wear

Indisposables
Jamtots
Jelly Bear Boutique
Kabum Cloth Diapers

Kushies
Lil Squishy Bums

Little Bottoms
Little Lion Designs

MiniMaestro
Monkey Doodlez
Muggabug
Mother-Ease
Northern Mom
Not Your Granny's Knitting
Omaiki

Peachy Baby
Rainshine Designs
Rearz
Snug Bug

Someday Sarah

Sugarpeas
Sweet Sparrow Design
Urban Bums Boutique

Made in the USA

Babykicks
Bamboo Baby
Best Bottoms
Blueberry
Bottombumpers
Bright Star Baby
BumGenius

Drybees
Econobum (covers only)

Flips

Gen-Y
Goodmamas
Green Acre Designs
Happy Heiny's
Hiney Lineys
JellyBeans Cloth Diapers
Kissaluvs
Knickernappies
Little Beetles
Marvels
Mommy's Touch
One Love Diaper Co
Otter Blotters
Planet Wise

Proraps
RagaBabe
Rocky Mountain Diapers
Sage Diapers
Snap-EZ
SoftBums

Sustainablebabyish
Swaddlebees
Thirsties
Tiny Tush
Wallypops
Weehuggers
Whamies
Woollybottoms
Congratulations on your decision and thank-you for supporting a Canadian or American mom's dream!

This list will likely never be complete, but I'd love to keep it up-to-date. If you know of a brand I've missed, please let me know and I would be happy to add it to the list. I love to find ways to support our own economy and keep jobs right here at home...and to encourage enterprising moms to pursue their dreams while giving back to their own communities!
Andrea Cote is the founder of Canadian-based AMP Diapers, and a mom of five. She built her local cloth diaper business in response to her friends' encouragement to make and sell her cloth diapers for others.


Affectionately referred to by her customers as Annie (the nickname her grandfather gave her), she says on her website, "I'm so happy to be able to offer my diapers to other cloth diapering families. I no longer sew all the products myself, I now have a wonderful team of men and women that work very hard making the highest quality products possible. Every AMP diaper is made right here in Winnipeg, MB, and our employees make a fair wage and work in comfortable and safe working conditions."


Like Andrea, there are countless other moms who responded to the need for high quality cloth diaper products. When demand for their diapers exceeds their own time and energy, each business owner has the choice to expand locally, or work with factories in far-away countries where labor is cheaper.
For many cloth diaper companies, it is an easy choice to keep production here in North America, rather than outsourcing the manufacturing jobs to other countries that may may not have the same ethical and environmental standards we enjoy in North America. These small businesses support the local economy and give back to their communities, by building sustainable partnerships with other domestic businesses, creating jobs, and fostering economic growth.


By buying cloth diapers that are made in Canada or made in the USA, you can help these small businesses to achieve their dreams and do your own part to help support our own economy.


It's a win-win...Canadian and American-made cloth diapers are the ultimate in quality, and are usually no more expensive than those made outside of North America. Never underestimate the impact can make: buying local diapers is another small way that you can make a big impact.
Sponsor Love


Return to top of
Buy Local: Cloth Diapers Made in Canada and the USA
---
You may also like:
13 Tips for a Green Diaper Experience
Looking for more ideas on how to be more eco-friendly? Here's a few ways to reduce your footprint while you use cloth diapers!
---
Return to
Where to Buy Cloth Diapers
.
At Thinking About Cloth Diapers, we offer reliable, up-to-date cloth diaper research to save you time so you can get on with the other things you want to do.
Return to Thinking About Cloth Diapers homepage.