Little Bunbun Boutique
by Danielle Wilbert
(New Bloomfield PA)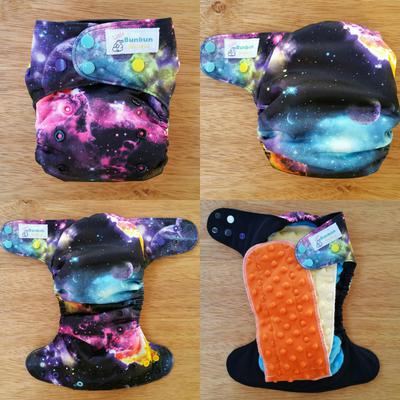 One size all in one
Lovingly handmade all in one cloth diapers

- One size - fit babies approximately 9-40+ lbs.
- Newborn - fit babies approximately 5-12+ lbs. They have an umbilical fold down to protect baby's healing skin.
- Each have two rows of snaps to ensure a snug and trim fit, three rise snaps to fit a wide range of growing babies, as well as overlapping wings to fit smaller babies.
- PUL outers, 360 PUL inners to prevent wicks around the legs, tummy and back.
- Soakers are permanently attached to the diaper.
- Depending on your choice of inner fabric, the front and back soakers have 2 to 3 absorbent layers, 1 layer of hemp/bamboo/organic cotton(h/b/oc), 1 layer of heavy bamboo fleece topped with a layer of soft and absorbent cotton velour(cv) or soft stay dry minky that lays against baby's skin.
- The diaper itself has 2 built-in layers, 1 layer h/b/oc topped with cv or minky.

Total layers of absorbency:
-8 layers in a cotton velour inner diaper.
- 5 layers in a minky inner diaper.

** Under the soakers of the diaper is 4 snaps, with this listing you have the option to add a small snap-in booster with 1 layer of h/b/oc sandwiched between heavy bamboo fleece. Adding 3 extra layers of absorbency to the already super absorbent Little Bunbun Boutique one-size diapers.
- Snaps in under the flaps of the diaper where the most absorbency is needed.
- Booster size is about 3.5"×7.5"

*CPSC compliant
I care about your child's safety. All of my products are made with materials that are in compliance with the Consumer Product Safety Commission.
Join in and write your own page! It's easy to do. How? Simply click here to return to Custom Cloth Diapers.
Sponsor Love