Greenchild Creations Custom Cloth Diapers
by Anne Hoelz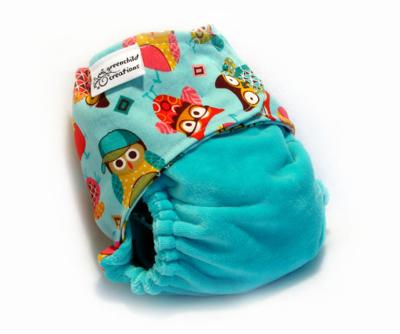 Greenchild - Owls Custom diaper
Welcome to Greenchild Creations, where we make affordable fitted cloth diapers, cloth diaper inserts, cloth diaper covers, natural soaps and lotions, all with quality and love ~ we do custom orders, too! You can also customize your fitted diapers and diaper covers!



Fitted diapers: your choice of any print cotton twill paired with any color bamboo velour I have in stock. These diapers are one-size. The waist has elastic and the rise length is set by how far down you fold the front flap to the inside of the diaper; which is why there are no snaps or velcro. You will need a diaper pin, or two, depending on your child's waist size. The front flap may be folded to any length or thickness you choose; it folds to the inside of the diaper leaving only soft squishy bamboo velour against baby's skin! This is also a pocket diaper should you wish to stuff with inserts to add absorbancy, keeping microfiber away from baby's skin. Snap or Velcro closure may be added for an additional cost.



Please see my Greenchild Creations Facebook photo albums for current colors/prints in stock:

Diaper covers:
made with fleece and can be either PUL lined, or simply made with 2 layers of fleece for wetness protection and breathability. Size M/L, and may be side or front snap, or Velcro, depending on your preference and the layout of the custom design. Most of the diaper covers I've made have been animals, but no need to limit it to animals! If you can dream it, I'll do my best to create it!