Funky Fluff Wet Bag:
Review & Giveaway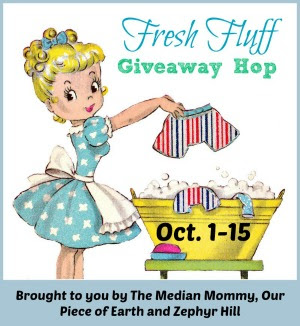 Welcome to the Fresh Fluff Cloth Diaper Laundry Giveaway Hop, hosted by The Median Mommy, Zephyr Hill and Our Piece of Earth.
Be sure to read our review and enter to win our Funky Fluff Wet Bag prize, and then scroll down to find out more about the awesome grand prize and to find more great giveaways being hosted by other blogs!
Our Review and Giveaway

The Funky Fluff wet bag is our hands-down favorite thanks to the dual pockets and roomy design.  Read our review and enter to win one of your own.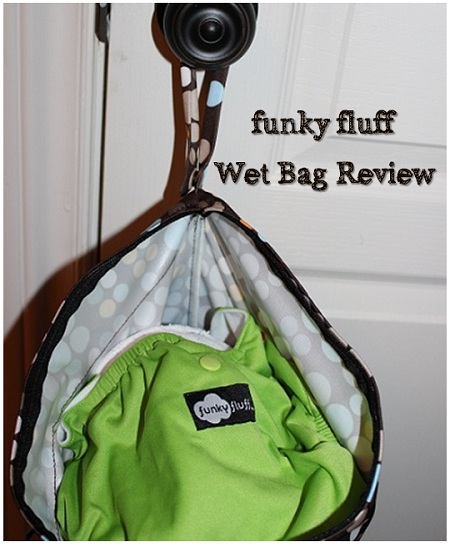 ---
Brand - Funky Fluff

Accessory Type - Wet Bag


Overall Rating: ♥♥♥♥♥

Approximately how much did you pay for it? - $14.99
---
What Do You Love About This Wet Bag?

Just like their diapers, the Funky Fluff wet bag boasts many premium features with an affordable price tag!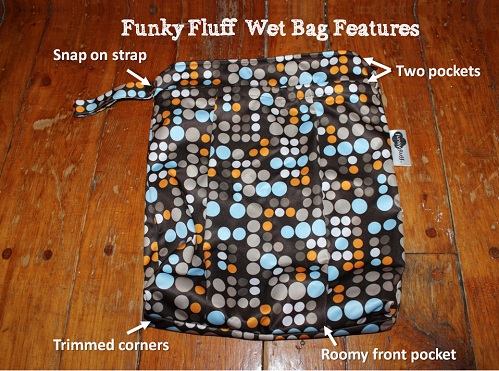 I love how roomy this wet bag is.  It's got trimmed corners, that make give the bag dimension (and make it easier to stuff full of diapers!)
I also love that it's got 2 separate zippered waterproof compartments (shown below).  Unlike some double pocket wet bags I've seen (for example, Alva), one of the best features is that the front pocket has a gathered front section.  Now, when the larger back pocket is full, the front pocket isn't useless - it expands even more so you can put diapers or other items in both pockets!  Use both for wet/dirty, or save a pocket to keep clean items separate!

This wet bag also has a snap handle (shown below), which allows it to be hung from door knobs, towel bars, your stroller, or anywhere else you might like to keep it!
I also love that it's made with a thick PUL material, which is flexible and strong.  This bag doesn't stretch as easily as many other budget bags made with PUL.  Because it doesn't stretch, it will be less likely to crack (and leak!) over time.
Funky Fluff also makes one of my favorite and most-recommended all-in-two diapers, and pail liners (which I haven't tried yet).  All of their products are designed close to home for me in Canada, and are made ethically in China.
How do you think this wet bag compares to other wet bags?
This wet bag is a roomy 12x15 inches, and can hold 8 to 10 diapers, depending on how trim your diapers are.  I also found that it's the perfect size for the beach and swimming lessons - it can hold a full-size towel, swimming shorts and a swim shirt!

Unlike many wet bags, the Funky Fluff bag is fully constructed with  heavy PUL, instead of a cotton exterior and a PUL interior.  Since I had previously only used ones with cotton exteriors, I wasn't sure if I would like this style of wet bag.  I was pleasantly surprised:  I found it wipes clean easily and dries more quickly.  Plus, I've always found that my cotton prints faded and also wore unevenly over time, and I haven't noticed that with this one at all!  It still looks brand new, even after dozens of washes!
Would you recommend it to a friend?
Absolutely, this is my favorite wet bag, and with a $14.99 price tag, I think the value is definitely worth it.

Wet bags make an awesome baby gift, even for those who aren't planning to cloth diaper, since they can be used for diapers, clothing, swim wear and anything else you can imagine... Funky Fluff is now the only brand of wet bags I will buy to give to others, since it's such an affordable and high quality gift!
What would you change about this wet bag?
I would love to see Funky Fluff launch more prints!  Right now, this wet bag is available in 7 solid colors and 2 unique, cute prints that I've never seen anywhere else.  I love the print featured on my own wet bag, but would love to see even more variety in prints!
Where to Buy
Funky Fluff is available through Lagoon Baby in Canada and Joyful Giraffe in the US.
Enter to Win

Use the Rafflecopter official entry form below to enter to win a Funky Fluff wet bag of your very own!
Open to Residents of Canada/US, 18+

This giveaway ends at 11:59 PM EST, October 15, 2013
a Rafflecopter giveaway
Disclosure:  This giveaway is in no way associated with Funky Fluff.  Thinking About Cloth Diapers is responsible for prize fulfillment.
What are Others Saying?

We don't have any reader-submitted reviews for this product yet, but you can check out what my friend Anne of Zephyr Hill Blog thinks of this product in her review here.
If you've tried a Funky Fluff Wet Bag, please share your opinions of this diaper with other readers.  Simply fill out our quick form at the bottom of our Cloth Diaper Reviews page.  It only takes a couple of minutes!
Fresh Fluff Giveaway Hop

More than  30 blogs are working together to bring you some great cloth diaper and laundry giveaways in this hop!  Plus, check out the amazing grand prize, full of incredible laundry products and other cloth diapers and accessories, valued at $220!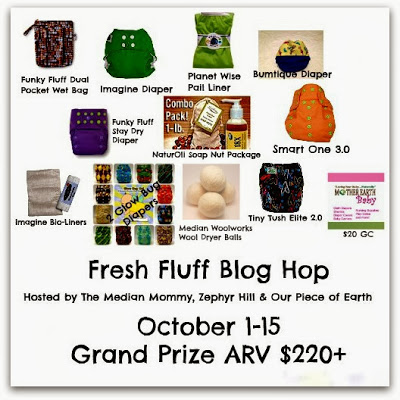 Thank you to all of our wonderful sponsors for this amazing grand prize package:

Take advantage of these exclusive offers from some of our sponsors:
Now Enter More Cloth Diaper Giveaways...

Hop around to the other participating blogs for your chance to win more great laundry-themed cloth diaper accessories!
Disclosure: I did not receive any form of compensation or free product from Funky Fluff in exchange for this review, but they have supported events on Thinking About Cloth Diapers, including our Choose Your Charity Event. The opinions expressed in this post are entirely my own, and your experience with the product may differ from mine. I only recommend products or services I use personally and believe will be good for my readers. I am disclosing this in accordance with the Federal Trade Commission's 16 CFR, Part 255: "Guides Concerning the Use of Endorsements and Testimonials in Advertising." For more information, see our Disclaimer and Copyright.
Go to top of
Funky Fluff Wet Bag Review
Go back to Our Favorite Cloth Diapers.


At Thinking About Cloth Diapers, we offer reliable, up-to-date cloth diaper research to save you time so you can get on with the other things you want to do.


Return to Thinking About Cloth Diapers homepage.
Sponsor Love