Cloth Diaper Affiliate Programs to Help You Monetize Your Blog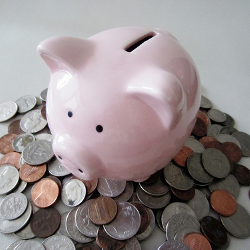 If you're a cloth diaper addict (er... blogger!), cloth diaper affiliate programs are one of the easiest ways you can use your blog to earn you cash or free fluff!
In this article, we explain the basics of affiliate programs, and help you find some great cloth diaper affiliate programs. Plus, don't miss our 6 tips to super-charge your affiliate sales, available at the bottom of the article.
What is an Affiliate Program?
Affiliate programs, also called associate programs, are basically fees paid to you to advertise a merchant store. In an affiliate arrangement, a website or blog receives commissions or payment in exchange for referring traffic (also called "leads") to a merchant website. If one of your blog's visitors clicks on a link to the merchant website, the merchant would pay you (the affiliate!) a commission according to their affiliate fee structure.
Why Should I Use Affiliate Programs?
Ka-Ching! The first reason is because affiliate programs are an easy way for you to make money! They are usually free to join, and if you run a blog or website, an affiliate program can help to pay for your expenses.
They're easier than selling advertising! When you sign up for an affiliate program, you can monetize your blog without having to recruit and retain advertisers. It can be hard for any blog, but even more so for young blogs, to secure advertisers because merchants may worry that they might not get a return on investment.
Build quality relationships! They can be a great way to develop relationships with retailers who may be willing to work with you to sponsor events and giveaways on your blog, too!
And, most of all, because your readers benefit! Your readers are looking for cloth diapers, and they are relying on your experience and opinions to help them out! Once you provide content about products you love, you can help your reader even more by helping them find a reliable, trustworthy retailer where they can purchase them!
Why do retailers offer affiliate programs?
Many cloth diaper retailers offer affiliate agreements because once they recruit an affiliate blog, the blog can be a cheap and effective marketing strategy. Compared to traditional web banner ads, affiliate programs are less risky because the merchant doesn't have to spend money on advertising that doesn't generate sales. With affiliate programs, merchants only pay for ads that are effective.
How does an affiliate program work?
You can find a lot of great information on the basics of affiliate programs across the web (like this detailed article from How Stuff Works), but here are the basics you should know before you sign up for a cloth diaper affiliate program!
When you sign up for a cloth diaper affiliate program, you will be issued an affiliate ID. This ID is embedded into the links the merchant provides to you. Affiliate programs track the referrer's ID to sales using internet cookies, so they know where the traffic came from. When a customer buys through your ID, you will receive commission for the sale.
Merchants can choose to have affiliate links point to their home page, or to a product-specific link. Product-specific links make for a much more integrated experience for the web visitor/shopper. There are usually two different styles of links available for affiliates to use:
Text links – embed the links right into your site's content, making them natural and, in most cases, more visible
Banner ads – these elements combine images and text into buttons or other image shapes that you can incorporate into headers, side bars, footers, or floating in your articles.
Earnings will depend on your traffic and conversion. Using analytics packages available with some website and blog hosts, or through Google Analytics, you can track the traffic that you refer to your merchant's site. Most affiliate programs also track things like "impressions" (i.e., views from the traffic you sent their way), and conversion rates, in their own software packages.
Customers don't always make a purchase immediately. You know yourself that sometimes you can get side-tracked mid-way through your research, or that you may need to discuss a major purchase with someone else. For this reason, most merchants honor internet cookies for a longer period of time – 30 to 60 days is most normal, but there can be exceptions.
Can I earn commission on my own purchases?
It depends on the retailer. Some, such as Nurtured Family and Cloth Diaper Outlet allow it, but most (including Amazon) do not. Some retailers, such as Diaper Junction, don't allow you to cash in on your own purchases but will offer rewards points programs instead.
Where can I find cloth diaper affiliate programs?
Individual Retail Websites
While affiliate programs are less common for cloth diaper retailers in Canada, lots of US retailers now offer affiliate programs that pay out either cash or store credit. I prefer to work with those that offer cash payments that I can use toward my web hosting and other expenses, but if you are still building your cloth diaper stash, or plan to self-host giveaways, store credits are often a great way to go, too!
If a retailer offers an affiliate program, it is usually listed on their home page, either at the bottom, or along the left hand side. Here is a list of some of some popular retailers that offer affiliate programs.
Cloth Diaper Outlet – 5% first time purchases, 2% repeat purchases, even your own
Diaper Junction – 5% cash on all purchases
Nicki's Diapers – 5% cash
Irresistibly Green – 5% store credit
Dearest Diapers - 5% store credit
I would like to list some Canadian retailers or manufacturers that offer affiliate programs, too; please let me know if you are aware of any!
Please note: while I have verified all rates and terms at the time this article was published and I do my best to keep articles current, I can't be responsible for the accuracy of the information about specific retailers and manufacturers. The availability and terms and conditions of affiliate programs can change suddenly and without notice. Before you sign up to participate, please verify all information regarding rates, conditions, and payment terms.
Affiliate Networks
Some retailers and manufacturers use affiliate networks to administer their affiliate programs. One example is Share a Sale, which administers the GroVia (10%) and Oso Cosy (10% - called "ClothDiaper.com") affiliate programs, among hundreds of others from a variety of industries.
For affiliate networks, you go to the affiliate network website and fill out an application form on-line. Once your application is approved by the network, you can begin to select individual cloth diaper affiliate programs (or others), based on relevance, and payment terms (which are published). Each online merchant will review your site and, if they would like to work with you, they will approve your application. Once your application is approved, they will provide you with affiliate links to place on your site. The network will track all transactions, and administer payments to you as you earn them.
Are there different kinds of affiliate programs?
The most common affiliate program arrangement is pay-per-sale (like Amazon.com). Most cloth diaper affiliate programs are pay per sale, but some of the other programs you may find on affiliate networks are pay per click, or pay per lead, as well.
Another form of affiliate programs you may see is co-branding. While the merchant processes the sales, the affiliate website (i.e., you!) will host the sales page, which means that it will look just like any other page on your site. Glow Bug uses a co-branding approach for their cloth diaper affiliate programs.
How do I get paid with cloth diaper affiliate programs?
Be sure to review the terms and conditions of your cloth diaper affiliate program to get familiar with how (and how often) they pay you! If you live outside of the US, as I do, you'll also want to be sure that they will issue you payment. Most will, but it never hurts to check to make sure!
To make administration easier, most affiliate programs have a minimum payment level. Each purchase will amount to a few dollars in commission; once you reach the payment threshold, the individual merchant (or the network if they use an affiliate network) will issue payment, either as a cheque, via Paypal, or (in some cases), as store credit. Some programs pay out once a quarter, while others pay out more frequently.
How can I make even more money with cloth diaper affiliate programs?
As a content provider on the internet, it's important that your affiliate programs "serve" your visitors. You should choose retailers and manufacturers that tie in with the content of your blog or website. Whether your readers have found you through a search, or they are a regular blog reader, once you "presell" them on a product, they will likely want to know where to find out more about (or buy!) it.
Six Rules to Super-Charge Your Affiliate Sales
Know your products! Be sure that you are familiar with the products your affiliates sell! Your readers will be much more apt to buy a product if you have tried it and had a good experience with it! Provide reviews for the products that include personal comments, not just the same information they could find on the merchant's website, and incorporate an affiliate link into each product review.
Point your reader to the right page. Use custom links whenever you can. A custom link will embed your affiliate ID into the link, while sending your reader to a specific page on your merchant's website. Readers are much happier to go directly to the product they are looking for, than to wind up at a home page and have to search for the product!
Help your readers through the retailer's process. If the merchant you are dealing with requires a site registration, experiment with helping your readers by sending them directly to the registration form first.
Test link types and placements! Experiment with banner and text links in your articles – some placements will definitely do better than others. Test various banner ads to see what works best for your blog and for each article… sometimes even a difference in color can make a big difference in customer conversion.
Think outside the blog. Include your affiliate link in newsletters, email signatures, and even forums and social media mentions where you can.
Keep it fresh and interesting. Your blog can sometimes take on a whole new look when you switch up your banners occasionally. Think about ways to work with your affiliates for seasonal events and big sales, and change up your banners accordingly!
If you have a content-based website or blog, cloth diaper affiliate programs are a great way to make money. Take your time to find a few good programs that will work well with your site content, and then get your links up – as the readership of your blog increases, work to build your conversions, and you'll be making money in no time!
This article contains some affiliate links. Some, but not all, of the above merchants pay me a small commission if you make a purchase or sign up for an affiliate account. I donate 25% of all my affiliate commissions to charity.

Sponsor Love