The 2013 Choose Your Charity Event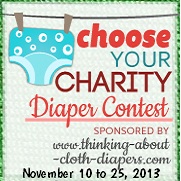 Welcome to the second annual Choose Your Charity Event, which runs from November 10 to 25, 2013!
Thanks to the generosity of our event sponsors, there are two awesome prize packs:
Grand Prize:  1 Lil Helper Diaper, 1 Funky Fluff Fusion Bamboo Diaper, and gift certificate for Ribbons and Stitches PLUS

30 Lil Helper Diapers and a Ribbons and Stitches gift card




for their chosen cloth diaper charity

Second Prize: 1 Lil Helper Diaper and 1 Funky Fluff Fusion Stay Dry Diaper PLUS

15 Lil Helper Diapers for their chosen cloth diaper charity
With thanks to all of the participating bloggers for their help in spreading the word about this event, the top voted charity will receive a $50 donation, too! So spread the word and help your favorite charity win!
---
About Our Sponsors

Thinking About Cloth Diapers

Every parent wants what's best for their baby, but lots of us don't have time to do tons of research. With so many great options available today, getting started with cloth diapers shouldn't have to be complicated!

Launched in October 2011, Thinking About Cloth Diapers is a cloth diaper information website that has been designed with cloth diaper newbies in mind. Thinking About Cloth Diapers provides articles about choosing cloth diapers, plus laundry, and other helpful information.  Visit Thinking About Cloth Diapers' homepage now to read more.
Thinking About Cloth Diapers will be sponsoring the shipping of the Lil Helper diapers to the winners' charities.

Lil Helper Cloth Diapers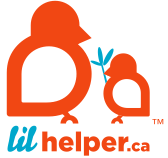 Founded by friends Nader and Mohammed in 2011, Lil Helper is a cloth diaper maker with an unmatchable personality!  They sell cloth diapers, inserts, wet bags and wipes, plus mattress pads and swaddling blankets, and are renowned for their commitment to customer service.  Lil Helper contributes a portion of their earnings to a deserving cause, and through their Baby Do Good program, they donate one brand new cloth diaper to a family in need for every 3 diapers that they sell.  You can read more about them on their blog, or visit their website to learn more about their products!
Lil Helper is generously donating a whopping 47 diapers for the Choose Your Charity Event in 2013!  The grand prize winner will receive 1 diaper, and their chosen charity will receive a donation of 30 Lil Helper diapers!  The second prize winner will also receive a Lil Helper diaper, and their chosen charity will receive a donation of 15 diapers!  Let's put our hands together for this wonderful company!
Funky Fluff and Stuff

Funky Fluff was started by 2 Canadian moms who were on the quest for the perfect diaper – and when they didn't find it, they decided to design it.  The result is the Funky Fluff Fusion 3 in 1 diaper.  With their interchangeable AI3 system, you can use these diapers as an AIO system, an AI2, and a pocket system. No matter how you choose to use them, Funky Fluff diapers are convenient and reliable!
Funky Fluff is donating one of each of their bamboo and stay-dry Funky Fluff Fusion diapers.  You can learn more and purchase their line of diapers and accessories on their website.

Ribbon and Stitches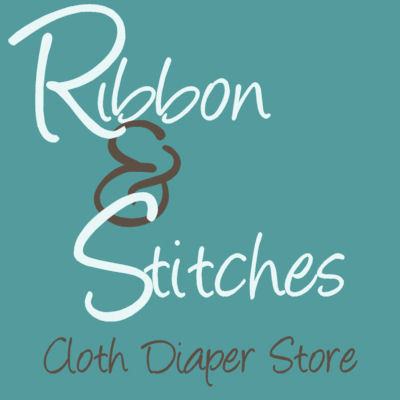 Ribbon and Stitches is a Louisiana-based cloth diaper retailer with a unique twist! They operate an on-line cloth diaper store that is "not for profit".  Ribbon and Stitches carries lots of popular diaper brands, and they use all of their proceeds to provide financial assistance to help families who couldn't otherwise afford to start up using cloth diapers!
They are donating a diaper for the grand prize winner, and a gift certificate to the winner's charity so that the charity can select an item that they really need!  To support their unique business model, please consider buying your next diaper(s) through their on-line boutique!

To read more about the awesome charities
you can vote for, click here!
Entries for this event will be collected starting on November 10, 2013. For your chance to win, please like our Facebook page to be reminded of the event when it starts!
Open to Residents of Canada & USA, 18+

This giveaway ends at 11:59 PM EST, Nov 25, 2013
a Rafflecopter giveaway
Want to Get Involved?

Sponsorship Opportunities

We are still accepting sponsors for this year's event. If you or a business you work with could benefit from a connection with this event, please contact us to discuss how we could work together!
Bloggers & Promotional Partners

The 2012 Choose Your Charity Event was successful because of the tremendous support we received from bloggers and other media partners.  If you have a blog and would like to purchase social media links on the Rafflecopter entry form, please visit our sign-up page.  We are grateful for all support in promoting this event, and would truly appreciate your help getting the word out!  Please consider posting our event button on your website or blog!  Or contact us to discuss how we can best work with you!