Baby K'Tan Review

Read our full Baby K'Tan review to find out how this  unique design carrier compares to other carriers, what we love most, and what we would change.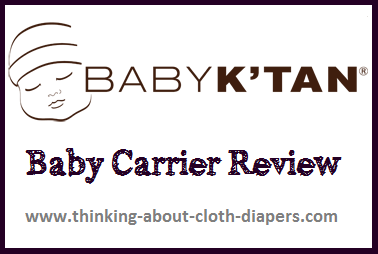 ---
Baby Carrier Model - Baby K'Tan Solid Cotton Baby Carrier


Carrier Type - "A wrap without all the wrapping" - Innovative double pouch sling


Overall Rating: ♥♥♥♥♥

What size did you purchase? - Medium


Approximately how much did you pay for it? - $65 CAD



---
Introduction
When my first son was born, I found that baby wearing helped me to calm him down when he became over-stimulated.  He wasn't much of a napper, and so baby wearing also allowed me to be hands-free to do light housework and grocery shopping.  When I started out with baby wearing, I used a ring sling, and then switched to a pouch swing before moving him into a soft structured carrier and then to a backpack carrier for hiking as he got older.

I knew that baby-wearing would be even more important with my second baby so that I would have hands free to help my son with crafts and activities.  While I loved the trim design of my pouch sling, I was looking for another solution that would help distribute baby's weight more evenly over both shoulders.  I purchased an Ergo, but I was thrilled when Baby K'Tan contacted me about a review of their innovative carrier - it was exactly what I was looking for but didn't realize existed!


How does this carrier compare to other carriers?
Ring slings and pocket slings have the benefit of being simple and offering a wide variety of carry positions, but the challenge I had with them was that because all of the weight was on one shoulder, I suffered discomfort and back pain when I used them for extended periods of time with my first son, especially as he got older.

While traditional wraps such as the Moby can be used similar to a sling and do distribute baby's weight evenly, they aren't as quick and easy to put on, and learning how to tie them can take time and patience.  I had considered a wrap, but I wanted something quick and easy.  The Ergo (and other soft structured carriers) have buckles, snaps, and bulky padding, which make wearing the baby more comfortable, but are also harder to pack in a diaper bag or to fit under a jacket.

Unlike soft-structured carriers, the Baby K'Tan does come in 4 different sizes, and getting the right size is important!  I'm lucky that my husband will be able to wear the same size carrier as I do, but for some families, you may need to purchase more than one size of Baby K'Tan if your partner also plans to carry your baby.  You can read about Baby K'Tan's sizing here.
What do I love about this carrier?
Simple and Supportive
The Baby K'Tan carrier is a unique blend of sling, wrap, and structured carrier.  It offers a unique double-loop design and a back support band, which provide support for the back and shoulders.  For me, this difference alone is worth the full price of the Baby K'Tan - I find it so much more comfortable than my slings!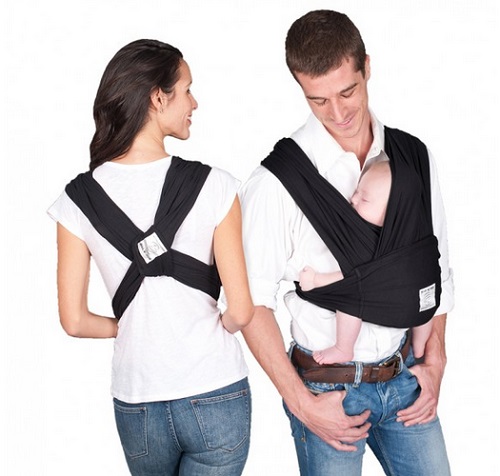 I also love that baby is more secure than they would be in a single pocket sling.  It truly frees up both hands, where I usually found I kept one hand on baby with the sling.  I've even used the Baby K'Tan to wear my son while playing my piano and typing on my laptop!

I actually find that I often wear the empty carrier when baby is down for a nap - it's not intrusive, and then it's ready when I want to pop him in when he wakes up and I'm in the middle of something.
Great Newborn Position
With the carriers I've tried in the past, I've found it can be hard to get a comfortable and safe position for a newborn.  With both my ring and pocket sling, I found that it could be challenging to keep baby's chin off his chest to ensure the airway was open, but I don't have that problem with the K'Tan.  The kangaroo (newborn) carry position offered with the Baby K'Tan keeps baby close to me and doesn't restrict his airway.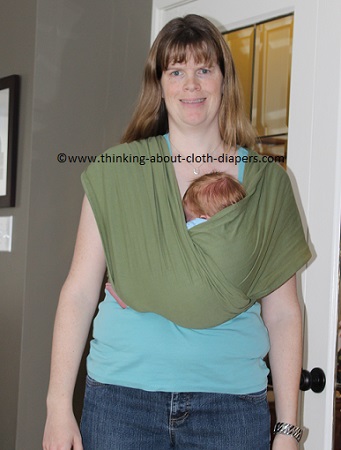 Easy to Pack
I love that it packs down into a small pouch that is easy to fit in my diaper bag.  My parents live a couple of provinces away, and so we usually fly to see them.  I'm really excited about this carrier for using in the airport - two hands free to manage luggage, and much less bulky to pack into carry-on than a soft-structured carrier!
Easy Care, Breathable Fabric
The Baby K'Tan is made of a soft, cotton knit (organic cotton is also available) that can be machine-washed and dries quickly.  Made of a single layer of fabric, it is breathable, which is great since my baby is a little furnace!  Neither of us over-heat with this wrap, and I don't find that I get clammy with it.  On another note, for summer wearing in warm climates, Baby K'Tan also offers an even more flexible model called the "Breeze", where half of the loop is made of a cool easy-breathing mesh fabric, and the other half is made of cotton, allowing you to turn the loops depending on the weather conditions!


Flexibility
With cold Canadian winters, it can be hard to get a newborn outdoors, but fresh air does both mommy and baby good.  With this light-weight carrier, I've been able to tuck my newborn in with a warm hat under my jacket for short walks.  Please note, it's important to make sure that baby has a clear airway, is comfortable, and close enough that you can kiss the top of his or her head.  When you're putting a jacket over top, it's especially important to ensure that baby can get fresh air and to monitor baby's temperature to ensure he or she doesn't get too warm.

The Baby K'Tan can be used for at least 6 carry positions, but I haven't tested it beyond the kangaroo carry (newborn position) yet.  I'm looking forward to testing out the side, forward facing, and hip carry positions as my son gets older.  You can also breast-feed your baby without removing them from the carrier, but we haven't mastered that yet!  :)
Would I recommend it to a friend?
I love the Baby K'Tan carrier!  Given the simplicity and flexibility of this carrier, I think it's an excellent starting point for many new parents who want to explore baby wearing.  With the reasonable price point, I also think it would make an awesome baby shower gift as a first carrier for any new parents!

I have written this review while my son is still in the newborn phase, and so it hasn't been tested fully yet!  I plan to use my soft-structured carrier as well as our back-pack carrier as my son gets older, heavier and more mobile, but I also look forward to continuing to use the Baby K'Tan carrier for travel and running errands and during the hot summer months when breathability will be important for both of our comfort!
What would I change about this carrier?
This is a hard-working carrier design, and so there isn't much I would change about it.  Baby K'Tan comes in several fabric color options including grey, denim, sage (the color I tested), eggplant, and black, I would love to see more variety in fabric choices, especially the organic cotton (which was my first choice but is currently only available in natural).  With all of the cute knit prints currently available from Europe, I would love to see designs that incorporated both solid colours and tasteful prints, even just as accents on the sash. 
Where to Buy

Baby K'Tan Baby Carriers are available in Canada from Cariboo Distribution.  The solid cotton model I reviewed is available for $65 CAD, while organic cotton is $75 CAD, and the Breeze is $70 CAD.  
Sponsor Love