Adult Cloth Diaper Products

Looking for adult cloth diapers?  Learn more about the different styles and products available in this comprehensive article.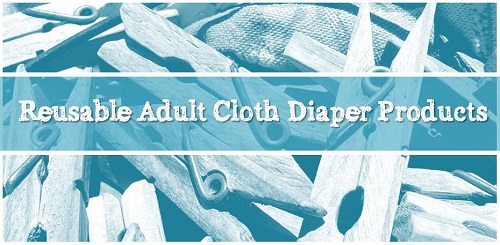 Adult Incontinence

If you suffer from incontinence, you aren't alone.  More than 30 million North Americans (including 1 in 3 women) are affected by bladder problems.  

For women, weakened pelvic floor muscles are often the result of both hormonal and physical changes during pregnancy, childbirth, and menopause.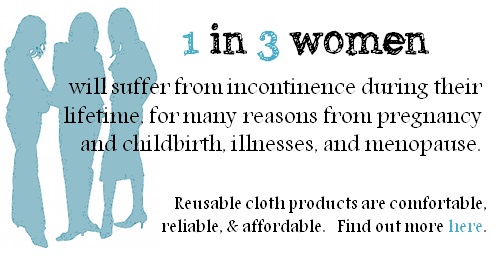 For men, prostate problems, diabetes, and countless other conditions can also cause leakage.

For both women and men, diseases such as Alzheimer's, multiple sclerosis, and Parkinson's, and nerve damage and urinary tract infections can also contribute to bladder problems.  Incontinence can also be a side effect of some medications.
Why Cloth?
Cloth incontinence products are comfortable, less wasteful, and less expensive than disposable options.  

At first glance, cloth diaper products can seem expensive, but high quality cloth products can last 200 or more washes, reducing the overall costs considerably.  While disposable products (such as Depends) are available, costs can definitely add up over time, especially if your health insurance doesn't cover them.

Additionally, cloth products can be very discrete - no paper noises, and washable at home, meaning you don't have to haul packages of products home from the store every few weeks.

Finally, while absorbent, cloth diapers are also softer and more comfortable than paper products.  Plus, cloth products are usually made of natural materials that may cause less skin irritation. 
Reusable Adult Cloth Diaper Products
The adult cloth diaper market is still relatively small, but there are several dependable and discrete options available, from traditional diaper-style products and plastic pants, to briefs and even panty-liners. 
No matter what level of absorbency you are looking for, there is a cloth product available for you.
Flat Cloth Diapers
Flat cloth diapers are made from one or two layers of fabric (usually 100% cotton) that is cut in a large square, and can be folded down into a diaper by the user. 
Flats allow you to customize the shape and fit of your diaper to your own preferences.  They are easy to wash, and dry quickly.  Flats are very affordable and hold up very well because they become softer and more absorbent over time, and they don't have elastic or other components to wear out.

When using flats, you will require pins and a waterproof cover.  When combined with one or more inserts or additional flats, these can be an incredibly reliable and comfortable option, even for overnight use.  $8.95 and up, depending on quantities, from AdultClothDiaper.com

Prefold Cloth Diapers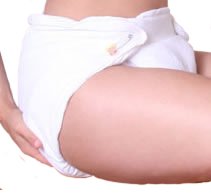 Save time and forget folding!  Prefold cloth diapers are made of several layers of fabric already sewn together in a rectangle, with a higher number of layers in the middle where you need extra absorbancy.  They still require pins and a waterproof cover.  They are usually made of 100% cotton and are all-natural and very absorbent.

Leakmaster prefolds are made in the USA and come in both gauze and birdseye cotton, with a layer of terry cloth in the center for extra absorbancy.  They come in sizes from XS to 3XL to fit waists from 28 to 70", and prices range from $18 to $44 each.
Amazon.com also carries Leakmaster and other brands of adult prefold diapers.
Contoured Adult Cloth Diapers

Contoured diapers are made of absorbent material and are cut in an hourglass shape for a comfortable, less bulky fit.  They are not waterproof on their own, and require pins and plastic pants.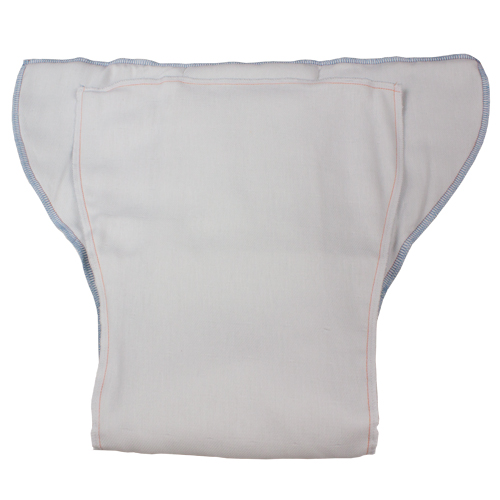 Leakmaster Contoured Adult Cloth Diapers are made in the USA, and are suitable for daytime wear, or for light incontinence overnight.  They are made of 100% cotton, which is soft and comfortable, yet durable.  From $21.95 depending on size and quantity.


Plastic Pants

Prefold, flat and contour cloth diapers all require a waterproof cover to contain wetness.  AdultClothDiaper carries a wide variety of pull-on covers with various materials, styles and colors, from bikini to high backed, and plastic to PUL (laminated polyester).



Stuffable Products

Stuffable cloth diapers, including pocket diapers and briefs offer a comfortable, dry experience with customizable absorbency.
InControl Adult Pocket Diapers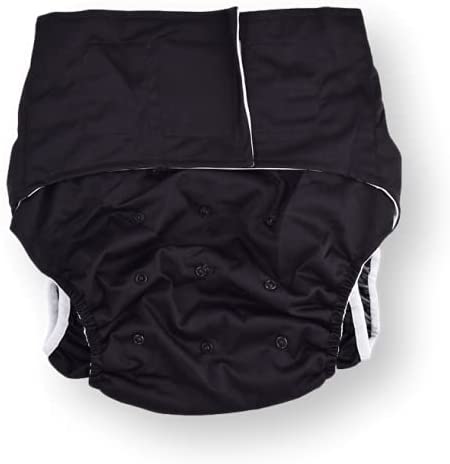 Made with an outer waterproof layer and an inner layer of soft microfleece, pocket diapers are comfortable and easy to clean.  Microfleece wicks wetness away from the wearer, reducing rashes and keeping you dry, even when the inner insert is soaked.  Microfleece is also easy to clean.  $31.99 from Amazon.com.
Super Undies Pull On Youth/Adult Incontinence Pants

These pull-on briefs are fully waterproof and contain a layer of absorbent microfiber to absorb light leaks.  Additional absorbency, such as a hemp insert, can be stuffed into the pocket to increase absorbency.  Also available in snap side and overnight weight.  $45 each from Amazon.com.
Inserts
Hemp/Cotton Blend Inserts

Hemp is an incredibly durable natural material that is usually blended with cotton.  Here at Thinking About Cloth Diapers, we love hemp products because they are trim and much more absorbent than 100% cotton products. 
To make rinsing easier and reduce drying times, Snap-EZ makes 2-layer hemp adult cloth diaper insert that is designed to be folded in half or thirds and then stuffed inside their pocket diapers and stuffable briefs.  $19 each from Snap-Ez.com.


100% Cotton Birdseye and Gauze Inserts

Looking for an all-natural option that isn't bulky?  These adult cloth diaper inserts from AdultClothDiaper are soft and absorbent.  They are $2.50 to $4.50 each, and are sold in packs of 4.



All-in-Ones
All-in-ones are the simplest, most user-friendly option of cloth diapers.  They are fully waterproof and have an absorbent inner, and fasten with either velcro-style closures or snaps.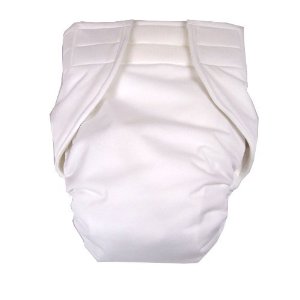 Leakmaster all-in-ones are a form-fitting diaper that has a water-proof outer and a very absorbent inner made of 6 layers of 100% cotton gauze and 2 layers of thick terry cloth.  Velcro-style closures make this product highly customizable and easy to change.  From $37.95 when you buy 4 or more from AdultClothDiaper.com


Classic Underwear
Don't want to wear an adult cloth diaper?  For light to moderate incontinence, waterproof briefs are usually sufficient protection, especially during the day.
Wearever offers cotton/polyester blend products that have a waterproof outer layer and look just like regular underwear.  These briefs have a trademarked antimicrobial fiber called Aigon that eliminates odor-causing bacteria, and a soft stay-dry pad that traps liquid below the surface so you don't feel wetness.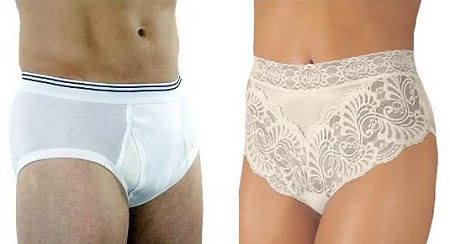 Both Mens and Women's styles are available for $15.99 from AdultClothDiaper.com.
Reusable Menstrual Pads & Panty Liners
Often called "mama cloth", there are lots of companies that now make reusable menstrual pads.  These pads have snapped wings that allow them to be secured to a woman's underwear, and they are soft and much more comfortable than disposable products. 
These products can be perfect for light incontinence.  Nicki's Diapers sells a variety of brands and sizes, and also carries waterproof zippered travel bags for when you are out and about.

Conclusion
Don't let incontinence hold you back.  You can be comfortable in cloth products, which are less expensive, discrete, and absorbent.  We hope the links in this article will help you in your search for better, more comfortable incontinence products!
Sponsor Love