Choose Your Charity Event | Cloth Diaper Charity Directory
In Did I Ever Tell You How Lucky You Are? Dr. Seuss says, "You ought to be thankful a whole heaping lot, for the places and people you're lucky you're not."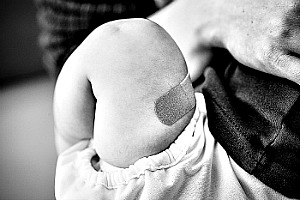 Since becoming a mother, I reflect more often than ever on how lucky I am for a healthy family, our freedom, joyful days, good food, and a job I love. And I have become ever more aware of the pain and suffering facing some children and mothers, both within North America, and also around the world.


I've always admired others who give deeply to causes they believe in. Over the past year as I built the Thinking About Cloth Diapers website, I often thought about whether there was a way to use this website to help others less fortunate.


Dr. Seuss' second reminder, from The Lorax provided inspiration: "Unless someone like you cares a whole awful lot, nothing is going to get better. Its' not!"

It took most of the year, but we've finally pulled together our first event designed to make a real difference!



Together, we can help things get better!
Introducing the Choose Your Charity Cloth Diaper Contest
This October, we're kicking off the first of (hopefully!) many charity events aimed to build awareness of cloth diaper manufacturers and retailers with strong morals and a focus on doing good things through their own charitable work. We want to introduce you to some fantastic companies who are using their brands to deliver positive changes throughout the world!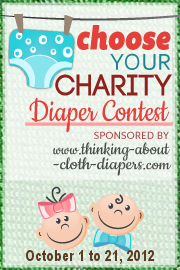 We want to know which children's or cloth diaper charity is nearest and dearest to your heart! You could win a $300 donation to the charity of your choice, plus $200 in cloth diapers and accessories for you to keep! Plus, the top voted charity will receive a $50 donation, and there are lots of other fluffy prizes, too!


This is your chance to show us you care!


* All charities must be registered children's or cloth diaper charities.


We'd be honored to have your support!
Little things can truly make a big difference. Here's a few small actions you can take to get involved!
Help us spread the word about this event! Share us on Facebook, Twitter, Pinterest, or anywhere else you can think of, and let all of your friends know, too!
Donate new or used diapers or cash to cloth diaper charities! No family should have to choose between diapers and other necessities such as food. Across the continent, cloth diaper charities accept new and used diapers and materials to help families stretch their budgets. If you have some cloth diapers you no longer need, consider shipping them to one of these great groups for re-use! For more on these groups, check out the profiles listed at the bottom of this article!
Buy diapers through our event sponsors to help them advance their causes
Thinking About Cloth Diapers Charitable Giving

Did you know?
When you purchase cloth diapers through one of our affiliates, we
donate 25% of our referral fees
to cloth diaper and children's charities. Please click on the links to our
affiliate partners
when you are ready to make a cloth diaper purchase!
Cloth Diaper Charities - Get Listed Here!
There are tons of great cloth diaper charity organizations that collect new or used diapers to be donated to families in need. If you know of one, we'd love to include them in our directory to help build our readers' awareness of the good work they do. Just send them to this page!
If you are a cloth diaper related charity, we'll add your link to the bottom of this page. To be included in our list of cloth diaper charities, please submit your information
below
!
Cloth Diaper Charity Organizations
It always feels so good to give! If you're looking for a local (or even not so local!) charity that helps others discover the benefits of cloth diapers, we're starting a list. Help us keep it up to date -
contact us
if you know of one we should include!
Serving the Greater Toronto Area and all of Southern Ontario
Serving Sarasota, Florida
Serving the entire continental USA
Serving Michigan
Serving North Carolina
Serving Prince George, BC, with branches across Canada!
Based in Louisiana
Based in East Tennessee
Serving Yakima County, Washington
Serving Medicine Hat, Alberta
Want to profile your cloth diaper charity, just like this?
Submit your cloth diaper charity here!
Share a bit of information about your cloth diaper-related charity with our readers.
Cloth Diaper Charity Listings
Click below to see charity listings submitted by others...

Cloth For Every Bum Hinesville/Savannah GA

If you've ever wanted to donate cloth diapers to a worthwhile cause, read on! As part of our Choose Your Charity event, which runs from October 1 to …
Tomahawk Sustainment Mission. Bardstown, Kentucky Not rated yet
If you would like to donate cloth diapers in Kentucky, read on! As part of our Choose Your Charity Event , which runs from October 1 to 21, we're helping …
Cloth Diaper Oklahoma Not rated yet
If you've ever wanted to donate cloth diapers to a worthwhile cause, read on! As part of our Choose Your Charity event , which runs from October 1 to …
Heiny Helpers in Bloomington, Indiana Not rated yet
What is your mission? The mission of Heiny Helpers is to provide cloth diapers and cloth diapering support to families with low income in the Bloomington, …



Go to top of The 2012 Choose Your Charity Cloth Diaper Charity Awareness Event



Return to Fun with Cloth Diapers.


At Thinking About Cloth Diapers, we offer reliable, up-to-date cloth diaper research to save you time so you can get on with the other things you want to do.


Return to Thinking About Cloth Diapers homepage.