Newborn Cloth Diapers
If you plan to start cloth diapering on day 1, you may want to consider buying newborn cloth diapers. Most parents find that fitted size small diapers and one-size diapers don't fit a brand-new newborn that well.

You might be thinking, "I thought they were called one-size - as in, these diapers are supposed to fit from birth until potty-training..."



Do I Really Need Special Diapers for a Newborn?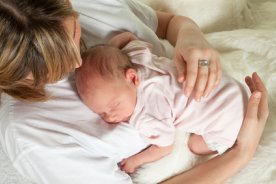 If you ask any experienced parent (ask one that recently had a newborn because they'll remember better!), they'll tell you that it's important that your diaper offers a snug fit for newborns! You want to have a diaper that is snug around the back and across the back to contain runny newborn poop.


Since most newborns have skinny legs, it can definitely be hard to get a good fit, especially with diapers that have been designed to fit toddlers too! Lots of parents struggle to get a good fit with one-size, or even sized diapers during the first month (or more!)


It's not that you can't use one-size or small sized diapers with newborns, but they may not be as reliable because they may not contain every mess! If you can't get a snug fit, you will have to be prepared for a few leaks. The occasional mess doesn't bother some parents.


Don't totally rule out one-size diapers though. If you don't want to buy special newborn diapers, there are some one-size options that seem to size down to work better for newborns than others. If you don't plan to use newborn cloth diapers initially, click on this link to skip down to our recommendations of one-size cloth diapers for newborns.



Diapering a Newborn
Newborns need to be changed at least every 2 hours, so you will need more cloth diapers at this stage in your baby's life than any other stage! By one month of age, many parents can get away with a stash of approximately 20 cloth diapers if you plan to do laundry every day. With newborns, you will need 24 (or even more) diapers - unless you want to do laundry every day!


---
If you're looking for good information on newborn care, including umbilical cord care or more about baby poo,
pregnancyandchildbirthguide.com
, a UK-based website written by experienced midwives, has great information. I found their
New Baby
section very helpful.
---
Two Sets of Diapers?
The cost of two full sets of diapers can be daunting for parents who consider buying a set of newborn cloth diapers and then a second set of sized or one-size diapers later on. Since newborn diapers typically last from 6 to 12 pounds, they aren't usually used for more than a couple of months, and some babies may outgrow them even sooner. A set of 24 fitted, pocket, or all-in-one cloth diapers in a newborn size can add up fast!


For many parents, a set of infant size prefolds and 5 to 6 wraps (I prefer newborn Bummis Super Brites) or wool covers can be a cost-effective option. If you decide to upgrade to pocket diapers when your baby outgrows the infant size, the prefolds can be used as inserts, or even burp cloths.



The Alternatives

Lots of new parents don't switch to cloth diapers immediately. I know, because I was one of them. The first few weeks as a new parent can seem overwhelming at times. I found it much easier to transition to cloth diapers when my little man was about a month old. By then, I wasn't breastfeeding every hour, and I felt I had a bit of time to get familiar with washing and folding diapers. By then, he had also gained a few pounds, and filled out his cloth diapers much better!


That said, there are some great reasons to consider cloth diapers right from the beginning. I think the second time around, I'll probably start with cloth much earlier. If you do want to use cloth diapers on your newborn but don't want to invest in a complete set, you may want to look into:
Using a diaper service for the first month if one is available in your area - these companies drop off clean diapers and pick up the dirty diapers each week to be professionally laundered
Infant diaper rentals - some cloth stores, such as Kissed by the Moon, offer rental packages for infant cloth diapers, where you do the laundry
Buying second hand cloth diapers (or reselling them)
Brands of Infant Cloth Diapers
Read our article on Where to Buy Cloth Diapers here.


Prefold and Fitted Infant Cloth Diapers
These diapers are not waterproof on their own and require a cover or wrap.
I often recommend the Bummis Super Brite Wrap, newborn size. This wrap fastens with velcro, and has double leg gussets which act as a second containment for runny poop! If you prefer a cover made with a natural material, you can buy wool soakers through many cloth diapering shops, and through Etsy.

Infant Size Prefolds

Newborn Kissaluvs (Size 0)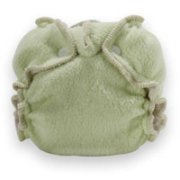 5-15 lbs
Made of soft, plush sherpa cotton fabric
Stretchy fabric and elastics
Easy to use with snaps
Hidden microfiber soaker for twice the absorbency of cotton terry
Light brown serger thread indicates size 0 (newborn)
Pre-shrunk, stain resistant
Unbleached cotton interior, with exterior with cotton/polyester blend for stretch and durability
$14-$17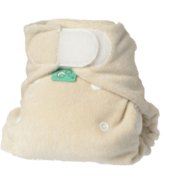 Bamboozle Fitted Size 1

5-18 lbs
4 layers of soft, stretchy bamboo, which is anti-microbial
Snap closures
Adjustable doubler
May take longer to dry
$20
BubuBebe Newborn Fitted
5 to 15 lbs
9 layers of absorbency
Knit, velour or minkee outers, with hidden bamboo fleece, and inner layer of cotton or bamboo velour
Snap as you grow soaker system
Made in Canada and available only through Hyena Cart
According to manufacturer's website, orders typically require a few weeks of lead time
$17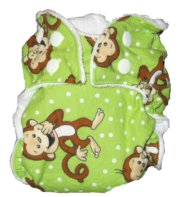 Nanipoos Newborn Fitted

5-10 lbs
One of the most affordable newborn fitted diapers I discovered ($8.50)
Soft cotton velour on inside
May have knit or woven cotton outside (stretch last a little longer)
Snaps
Umbilical scoop
Take a long time to dry
Made in the US and available only through Hyena Cart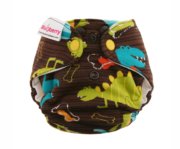 Blueberry Newborn Fitted

6 to 15 lbs
Made with 100% cotton outer layer, 2 layers of bamboo French terry, and a 4-layer soaker pad
In cute patterns
$20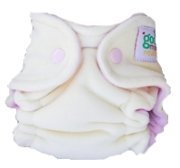 Goodmama Newborn Fitteds

5 to 12 lbs
Plush cotton or organic bamboo velour in prints
Hidden snaps and turned edges for baby comfort
$29
Newborn All-in-One and Pocket Diapers
GroVia All-in-One Newborn Cloth Diapers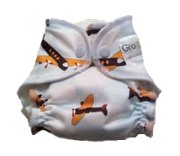 Designed specifically for newborns 5-12lbs
Newer ones have 3 layers of 55% Hemp/45% cotton as a sewn-in soaker pad, topped with 100% polyester microfleece, while original are 100% organic cotton inner
All-in-one (no cover reiqured, no stuffing)
Waterproof TPU outer
Super easy to use
---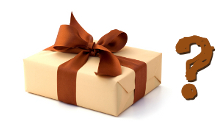 If you're not sure which newborn brand to buy, try out a few.
Kissed by the Moon
, a California-based retailer that offers newborn cloth diaper rental programs, sells a mixed pack of the gently used rental newborn diapers for much less than the original prices. Since newborn diapers aren't used for long, these diapers are in great shape, and it's a great way to experiment!
---
Rumperooz Lil Joey All-in-One
4-12 lbs (fits preemies)
Snap down for umbilical cord
Specially designed with inner gussets - these are great at containing runny poop and stopping up-the-back blow-outs!
4 layers of microfiber sewn in
$15 (sold in a 2 pack for $30)
Click on the image to find Lil Joeys at Nurtured Family
One-Size Diapers for Newborns
WAHMies One-Size Pocket Diapers

This is one of the one-size diapers that will truly fit a full-term newborn, and still fit when your child is a toddler
With a pocket opening at the back
Soft polyester velour inner to wick away moisture, does not pill
Available with hook closures or snaps
Comes with a bamboo and cotton insert
$20
Softbums Echo One-Size (All-in-Two)
This is another one-size diaper that will fit a full-term newborn or a toddler
AI2 system - purchase shells separately from inserts. Inserts are replaced at every diaper change, while shells are washed when soiled, so you need 5-6
covers, and up to 24 inserts for a newborn
Slide2Size system - Small adjustable toggles hidden inside the diaper shell are used to adjusts leg openings from 2 to 14", so you can get that perfect fit, no matter how big or small your baby is!
Velcro closure (snaps also now available)
Inserts (called "pods") are purchased separately and snap into shell (no stuffing required). You can choose from Dry Touch (2 layers of microfibre covered with a layer of stay-dry fleece next to baby's skin), Super Dry Touch (3 layers of microfibre with a fleece top), and Organic Bamboo
Can also buy doublers (mini pods) to increase absorbency
Shells $22, inserts range from $6 to $11, doublers from $4 to $5


Go to top of
Newborn Cloth Diapers
---
You may also like:
Tips to Buy Used Cloth Diapers
There is a strong resale market for good quality second-hand cloth diapers. If you're considering buying newborn diapers and would like to save some money, find out more about how to buy them gently used.
---
Go back to
Types of Cloth Baby Diapers
.
At Thinking About Cloth Diapers, we offer reliable, up-to-date cloth diaper research to save you time so you can get on with the other things you want to do.
Return to Thinking About Cloth Diapers homepage.