Baby Diaper Covers Explained
Covers & Wraps
Baby diaper covers and wraps are made of waterproof material. They are used with diapers that are not waterproof on their own, such as flats, prefolds, and fitteds.  There are a lot of baby diaper cover options you can choose from, and we'll highlight some of our favorite reliable choices for covers below.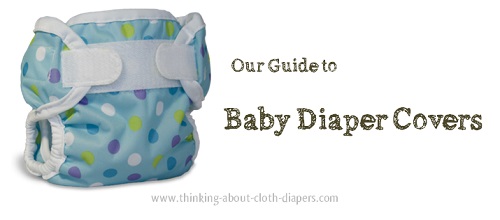 Prefolds or fitted diapers, combined with a baby diaper cover of your choice, are a flexible and economical diapering system. Please note, you do not need covers for pockets and all-in-one diapers, since they already have a waterproof outer. 
Styles of Baby Diaper Covers
Wraps

My favorite cover type is the wrap, which has velcro or snap closures on the front. You don't need to use a Snappi or pins with a cover (you can if you want, though) if you're using pre-folds, you can simply fold them into thirds, and lay them inside the cover and do it up.


Single layer PUL wraps can be reused between washes - just wipe it clean and hang it to dry near your change table so it's ready for the next diaper change.



Pull-on Covers

Diapers must be fastened onto baby before a pull-on baby diaper cover can be used. Fitted diapers or prefolds with snappis work best.


Pull-ons make for quick diaper changes with your mobile baby, but can make for messy diaper changes if your little one has a runny poopy diaper. Most wool covers are pull-on style, and fleece is another option. Waterproof nylon and vinyl pull-on pants are a very affordable cover option.
How to Choose a Baby Diaper Cover
You don't need to limit yourself to just one type of cover, but keep in mind when choosing a baby diaper cover:
What is your budget?
Will you use a synthetic fiber, or do you want to use only natural materials?
How old is your baby? How wiggly are they? Do you plan to use a snappy or fitted diaper, or a pre-fold or flat?
Are you looking for a day or night-time solution?
Fabrics Used for Baby Diaper Covers
PUL (polyurethane laminate): Highly popular, this is a synthetic fabric coating usually applied to polyester knits, but also sometimes applied to knit cottons and rayons from bamboo. Waterproof, durable, and easy to clean. Can be wiped clean and reused between washings, and can be washed with your diapers, even in very hot water. Less breathable than wool or fleece.


Waterproofed nylon: A very affordable, but less common option for covers these days. Nylon is durable, waterproof, and breathable. Plus, it's machine washable and dries very quickly (but needs to be hung to dry).


Vinyl: not many vinyl diaper pants are available any more. Vinyl does not breathe. It also tears easily - it is much less durable than nylon. Because the cost for vinyl is only slightly less than nylon baby diaper covers, most retailers will recommend the more durable and breathable nylon, such as Dappis.


Fleece: a synthetic fabric that is breathable and lighter weight than wool. It is durable and machine washable, and dries quickly. While it wicks moisture away from baby, some people don't like fleece because it can wick moisture through to clothing too.


Wool: one of the most expensive choices, but completely natural option, wool can hold water, and is both breathable for air circulation (less rashes!) and anti-bacterial. Lots of moms swear by wool baby diaper covers, especially for overnight diapering. Wool covers are a bit more fussy: lanolizing and special laundering is necessary. Click on link to skip down to more information on wool further below
How Many Baby Diaper Covers Do I Need?
It depends on how often you plan to do laundry and how old your baby is. Most parents find that 6-8 is best for a newborn. For older infants, 4-6 is usually enough, and by the time you get to toddler age (when babies are eating solid foods!) you can get away with only 2-3 diaper covers.


For wool, you can usually manage with a few less, since it doesn't need to be washed as frequently. You should plan for 3-4 for full-time use, and 2 if you will only use wool for night-time diapering.
Snaps or Velcro?
It's really up to you! In a great blog post on The Cloth Diaper Whisperer, writer Tammy goes through the benefits and disadvantages of both. I completely agree with her thoughts that there is a time and a place for both, but never does the question become more relevant than when baby becomes more active. As Tammy points out, the biggest dilemma at that point is "do I choose snaps so that the baby can't get the diaper off or do I choose Velcro so I can get the diaper on?" I encourage you to click on the link to read the whole article if you are unsure of which to choose.

And to clear up any confusion, hook and loop and aplix are other names for Velcro-like materials.
Sized or One-Size Diaper Covers?
If you're trying to decide whether to buy sized or one-size baby diaper covers, consider the following topics:
Save Money: if you're trying to save money, one-size diaper covers, such as the Sugar Peas PUL cover, are a convenient and affordable option that can last from birth until potty-training.


Longevity: one-size is also great if you plan to cloth diaper only one child. Diapers, just like other clothing, do wear out over time, so one-size covers may not last through multiple children, whereas sized covers may since they are not used as long


Newborn Fit: one-size diapers can be bulky on new babies, and may not fit as snuggly. Even if you plan to use a one-size diaper, you may want to invest in newborn wraps for the first few weeks. If you're not sure about making that investment, some retailers and diaper services even rent newborn covers!


Quantities: newborn babies need more covers (since they need more diaper changes!) than older babies, so you may find it's better to buy sized newborn covers and then invest in only a few one-size covers when baby outgrows the newborn size.


Style/Fabric Choice: one-size covers are usually only an option for PUL wraps. Wool and nylon pull-on pants need to be sized to ensure a leak-free fit!
What are Gussets?
You may notice as you compare cloth baby diaper covers that some come with gussets, while others do not. What exactly is a gusset, you may be asking? It's hard to explain, but SoGreenBaby.com, a retailer in Toronto, ON, does a great job saying, "gussets are that little piece of fabric that hugs your baby's leg, just inside the diaper leghole". Especially effective for newborns and skinny babies, gussets will help you keep outfits clean!


My own first experience with gussets was with the Rumparooz pocket diaper, and later with our first Bummis Super Brite baby diaper cover, which we received from a friend who had used diaper service. I love gussets in diapers - they help contain the messiest of diapers, especially from newborn babies!
More Information on Wool

Wool covers are not waterproof, but they are very absorbent. Wool can absorb up to 40% of its weight in liquid. It has antibacterial properties that allow it to suppress odors.


While you can find wool wraps, most are pull-on covers. Wool covers are often called wool soakers, and sometimes you will see them referred to as shorties, since they are like little shorts. You may also see wool longies - these are like a pair of pants that can be used as a combination diaper cover. You can find lots of wool covers on Etsy, where many are handknit or made out of "upcycled" wool sweaters.


If you want to save money, you might even want to make your own baby diaper covers with thrift store wool sweaters - just be sure to buy 100% wool or it won't offer the same level of absorption. Check out our Cloth Diaper Patterns article for a link to free patterns for wool covers, such as the one from Katrina's.


Not just for winter!

Wool will keep baby comfortable no matter the conditions, because it is very breathable, helping with temperature regulation of the body. Wool is a great solution for summer too, because it allows for air circulation and will keep baby cool, even when wet.


Caring for Wool

Wool care can seem a bit mysterious and it can even be a bit intimidating. Since wool doesn't retain odors, you can wait 2-3 weeks between washes unless they become soiled. It's best to follow the manufacturer's instructions for washing, but here are some basics for you.

Since wool shrinks, most wool covers should be hand washed in lukewarm water. You can use baby shampoo or a wool wash such as Eucalan Wool Wash. Simply soak the cover for 10 minutes. Do not rub it or wring it out. Then roll it in a towel to remove extra water, and repeat with clean water. Then lay it flat to dry so it doesn't stretch.


You should lanolize your diaper covers before the first use. Lanolin will extend the lifespan of your wool diaper covers and enhance their performance too! To lanolize, simply dissolve 1/8 tsp of lanolin (the same stuff that works awesome for breast-feeding moms!) in hot water, and add to the last rinse every 10-12 wears.


For more details, here are few great wool tutorials:
There are lots of brands of wool baby diaper covers. We've highlighted 3 below to give you a flavour a wrap, a light-weight cover, and a heavier cover, perfect for overnight. Some manufacturers also offer longies (covers with long legs).



Thanks to new fabrics and choices of design, the rubber pants used by our parents and grand parents are a thing of the past! With so many options for diaper covers, whether you decide to go with sized or one-size, and easy-care PUL or another fiber option, there are lots of great choices to keep your baby dry and happy!